Lunch-Box Dream
by Tony Abbott
Ages 10–14
It's the summer of 1959 and Bobby is on a trip to visit Civil War battlefields with his mother, older brother, and recently widowed grandmother. Bobby is not comfortable around "chocolate colored" people or death, so the trip from Ohio to Florida is difficult for him. Interwoven with Bobby's narration is the story of a black family in Georgia, told from a variety of first-person viewpoints. This beautifully written books deals with the uncomfortable subjects of racial conflict, sibling rivalry, and marital discord.
---

Chains
by Laurie Halse Anderson
Ages 10–up
As the Revolutionary War begins, 13-year-old Isabel and her 5-year-old sister Ruth are about to be freed from slavery by the will of their Rhode Island mistress. However, the unscrupulous heir prevents the reading of the will and the girls are soon the property of an abusive Loyalist couple in New York. Isabel agrees to spy for the Patriots in exchange for passage back to Rhode Island for herself and her sister. This well researched exploration of the treatment of slaves is contained in a gripping story.
---

Forge
by Laurie Halse Anderson
Ages 10–up
This sequel to Chains is narrated by Curzon, the young slave Isabel freed from prison while escaping from New York City in 1777. After staying for a few months in New Jersey, Isabel runs away to find her sister, a quest Curzon feels is futile. Curzon joins the army, passing as a freed slave, and suffers through the harsh winter at Valley Forge. His fragile acceptance is threatened when his owner arrives. Readers will be anxious to read the final book in the trilogy to learn the fate of Curzon and Isabel.
---
Ashes
by Laurie Halse Anderson
Ages 10–14
It's June 1781, and former slaves Isobel and Cruzon have finally located Isobel's younger sister Ruth on a South Carolina plantation. Now 12, Ruth has been cared for by the other plantation slaves, and has no use for her sister. Isobel doesn't understand Curzon's desire to enlist in the fight for independence. Taking Ruth and Aberdeen, an escaped slave from the plantation, they head north to Williamsburg, Virginia, where patriots are preparing for an assault on Yorktown. This gripping story is a satisfying conclusion to the Seeds of America trilogy (Chains, Forge).
---

The Astonishing Life of Octavian Nothing, Traitor to the Nation, Volume 1: The Pox Party
by M.T. Anderson
Ages 14–up
Octavian, a black youth in Revolution-era America, is raised in a Boston household of radical philosophers. He is given a classical education and kept with his mother, an African princess, in comfort. As he matures, Octavian realizes he is an experiment to discover the intellectual capability of Africans. When his mother dies, Octavian runs away and joins the Patriot army. Though written in 18th century language in the form of letters, this powerful novel raises contemporary issues of racism, human rights, the causes of war, and the struggle of an individual to define himself.
---

The Astonishing Life of Octavian Nothing, Traitor to the Nation, Volume II: The Kingdom on the Waves
by M.T. Anderson
Ages 14–up
Octavian heads to Virginia where Lord Dunmore, the colony's governor, is emancipating slaves in exchange for military service. Octavian soon realizes that his liberation is not a moral decision, but a political expediency. As the Revolutionary War, explodes around him, Octavian struggles with ideals of liberty and his own personal growth in this fascinating perspective on our national origins. (sequel to The Astonishing Life of Octavian Nothing, Traitor to the Nation, Volume 1: The Pox Party)
---

City of Orphans
by Avi, Greg Ruth
Ages 10–14
Maks Geless, a 13-year-old Danish immigrant, makes 8¢ a day selling newspapers on the street corners of 1893 Manhattan to help support his family. Things aren't easy for the Geless family: the shoe factory where Mr. Geless works is closing, Maks's sister Agnes has tuberculosis and his sister Emma, a maid at the Waldorf Hotel, is accused of stealing. But the Geless family finds room in their humble home for Willa, a homeless girl who saves Maks from a street gang. Maks and Willa join forces to clear Emma's name and rescue her from the Tombs, the city's infamous prison. The stark contrast between the struggles of the Geless family to survive and the easy splendor of the Waldorf make this historical fiction come alive.
---

Crispin: The Cross of Lead
by Avi
Newbery Medal 2003


Ages 10–14
Set in 14th century England, Crispin is a 13-year-old illiterate peasant who flees his village after being accused of a crime he did not commit on the day of his mother's death. He hopes that the words on his mother's lead cross will provide a clue to his unknown father. He falls in with Bear, a huge traveling juggler, and their relationship is the heart of the book.
---

The Seer of Shadows
by Avi
Ages 9–12
This scary ghost story, set in 19th century New York City, is narrated by 14-year-old Horace Carpentine, apprentice to a photographer intent on duping a wealthy client.
---

Sophia's War: A Tale of the Revolution
by Avi
Ages 8–12
Sophia Calderwood (12) lives in British-occupied New York City on the eve of the Revolutionary War. When her brother William, a Patriot soldier, goes missing at the Battle of Brooklyn, Sophia searches for him in the prisons where rebels are held. When she witnesses the execution of Nathan Hale three years later, she is horrified and resolves to do all she can to help the American cause. Recruited as a spy, she is sent undercover as a maid in General Clinton's household, the supreme commander of the British forces in America, eventually uncovering the truth about Benedict Arnold.
---

The Passion of Dolssa
by Julie Berry
Ages 12–up
In 1241 Provensa (Provence) the inquisition seeks to rid the Christian world of heretics. Dolssa de Stigata's mother was condemned by a Dominican friar to burn at the stake, but Dolssa escapes. She is rescued by Botille, a young matchmaker who runs a tavern with her two sisters in the seaside town of Bajas. They try to keep the fugitive hidden, but Dolssa feels called to heal the sick and her small miracles bring the wrath of the Church to Bajas, endangering everyone in the small town.
---

The Scandalous Sisterhood of Prickwillow Place
by Julie Berry
Ages 10–14
The students of St. Etheldreda's School for Young Ladies in Cambridgeshire England have a problem — their stern headmistress Constance Plackett and her despised brother drop dead at the dinner table, apparently poisoned. The girls decide to pretend that everything is normal while hunting for the murderer. This hilarious Victorian farce is full of mystery, surprising plot twists, and a hint of romance.
---

Chime
by Franny Billingsley
Ages 12–up
Briony (17) believes she is a witch. Her step-mother blamed her for all the family's hardships, including her twin sister's disabling fall from a swing years earlier. Briony also blames herself for her step-mother's death and often escapes to the swamp to tell her secrets to the Old Ones. New technology has arrived in her tiny town of Swampsea, England, with the turn of the 20th century, and a new pumping station is built to drain the bog. But the supernatural Old Ones have sent a fever to punish Swampsea. Then Eldric arrives, and Briony is torn between her attraction to Eldric and her overwhelming guilt.
---

Prisoner of Night and Fog
by Anne Blankman
Ages 13–up
Gretchen Müller has been her Uncle Dolf's favorite ever since her father sacrificed himself to shield him from police bullets during his failed attempt to overthrow the government in 1923. Then Gretchen meets Daniel Cohen, a reporter who believes that her father is not a Nazi hero, but instead a murder victim. Gretchen doesn't believe Daniel, and begins her own investigation, discovering that many things she accepted as truths are really lies, and that her Uncle Dolf (Adolf Hitler) is not the man she thought he was.
---

A Gathering of Days:

A New England Girl's Journal, 1830-32
by Joan W. Blos
Newbery Medal 1980


Ages 9–12
This novel is written in the form of a diary kept for a year by Catherine Cabot Hill, a 13-year-old girl in New Hampshire. Catherine's mother has died, and she must keep house for her father and younger sister. During the year, Catherine undergoes school discipline, encounters runaway slaves, loses a friend, and faces new relationships when her father remarries a woman with children of her own.
---

What I Saw And How I Lied
by Judy Blundell
Ages 12–up
This noir mystery is set in 1947. Evie (15) and her mother set off for Florida with her stepfather Joe. Evie falls in love with Peter, an army buddy of Joe's. A suspicious boating accident forces Evie to re-examine her relationships with Peter, her mother, and her stepfather. This stylish novel has the atmosphere of a glamorous old movie.
---

Strings Attached
by Judy Blundell
Ages 13–up
Kit Corrigan (17) leaves her home in Providence, Rhode Island, hoping to find fame and fortune on Broadway. It's 1950, and Billy, Kit's ex-boyfriend, has joined the army, but his mob-connected father offers Kit a Manhattan apartment and a nightclub job if she agrees to keep him informed about Billy and his friends. Soon Kit is way over her head, caught in a web of intrigue, love, betrayal, and murder.
---

Vengeance Road
by Erin Bowman
Ages 14–up
It's 1887 when Kate Thompson's father is killed by the Rose Riders, searching for a mysterious journal that reveals the secret location of a gold mine. Disguised as a boy, Kate (18) sets off west in search of vengeance. She is joined by Jesse and Will Colton, brothers in search of gold, and guided by Liluye, an Apache girl. This vivid portrayal of a lawless world doesn't shrink from violence.
---
Young Samurai: The Way of the Warrior
by Chris Bradford
Ages 10–up
A British merchant ship is attacked by Japanese ninja pirates who murder the entire crew, including Jack Fletcher's father. Young Jack is rescued by a powerful Samurai who adopts him and trains him to join the warrior class. Since he is a foreigner, Jack is treated as an outcast at Samurai school and must use all his wit and skill to survive and succeed. First in a projected trilogy, this fast-paced adventure set in medieval Japan is full of spellbinding bits of history, culture, and martial arts.
---

To Stay Alive: Mary Ann Graves and the Tragic Journey of the Donner Party
by Skila Brown
Ages 10–14
This compelling novel in verse is written from the fictionalized perspective of real-life Mary Ann Graves, one of the few survivors of the Donnor Party. In 1846, Mary and her family left Illinois to settle in California. At first Mary shares her father's excitment about the adventure, but the reality of life on the trail is not what she expected. Mary cares for her younger siblings, helps move rocks and trees blocking the wagons, and endures thirst in the desert. The worst is the final ordeal when they become trapped in the ice and snow at Donnor Pass, resorting to cannibalism in order to survive.
---

The War that Saved My Life
by Kimberly Brubaker Bradley
Ages 9–12
Ada (9) lives with her younger brother Jamie and her mother in WWII London. Because Ada was born with a clubfoot, her mother is ashamed of her and never lets her leave the apartment, abusing her both physically and emotionally. When the Germans begin bombing London and children are evacuated to the country, Ada sneaks onto the train with Jamie. None of the villagers are willing to take the neglected siblings, so they are sent home with Susan Smith, a reclusive woman with no experience with children. Miss Smith provides the children with food, new clothing, and the security they have never know. She also has a pony, which Ada is determined to learn to ride and earn the freedom to roam the countryside at will.
---

Kaleidoscope Eyes
by Jen Bryant
Ages 9–13
In the summer of 1968, 13-year-old Lyza and her friends search for Captain Kidd's lost treasure in their New Jersey neighborhood. Narrated in verse, this novel has a strong sense of place and vividly portrays a teenager's conflicting emotions about the onset of adulthood.
---

A Thousand Never Evers
by Shana Burg
Ages 9–12
Set in rural Mississippi during the civil rights movement, this emotionally compelling novel shows the racism and violence endured by the African-American community through Addie Ann Pickett, a junior high school girl. Caught between her mother's rule to stay away from trouble and her brother and minister who argue that there comes a time when dignity is worth more than life, Addie has to make some difficult decisions.
---

Ringside 1925:


Views from the Scopes Trial
by Jen Bryant
Ages 12–up
The fictionalized inhabitants of Dayton, TN, home of the infamous "monkey trial," speak in a range of perspectives about the teaching of evolution.
---

Al Capone Does My Homework
by Gennifer Choldenko
Ages 10–up
Moose Flanagan (13) is happy when his father is promoted to associate warden at Alcatraz, but the good fortune makes the family a target. A fire breaks out while Moose and his autistic sister Natalie are alone in their apartment. Moose is afraid it is his fault since he fell asleep, and a neighbor blames Natalie for the fire. Moose and the other Alcatraz kids band together to figure out the cause of the fire. Inmate No. 85 (Al Capone) sends Moose a note on his homework that helps solve the mystery. This final trilogy volume follows Al Capone Does My Shirts and Al Capone Shines My Shoes.
---
Ghost Hawk
by Susan Cooper
Ages 10–14
Returning from his three-month test of solitude, Little Hawk returns to his Pokanoket village to discover that diseases brought by the Pilgrims in nearby Plymouth have killed everyone except his grandmother. Later Little Hawk befriends a Pilgrim boy named John Wakely, but the Pilgrims' bigotry and a shocking act of violence permanently change both their lives.
---
Bud, Not Buddy
by Christopher Paul Curtis
Newbery Medal 2000


Ages 9–12
Bud is a 10-year-old orphan in Depression-era Michigan. He runs away to Grand Rapids, searching for the man he believes might be his father, jazz musician Herman E. Calloway. Along the way Bud has all sorts of exciting adventures, narrated in his own authentic and often hilarious voice. Calloway is less than thrilled to meet Bud, but the other members of his band make Bud feel at home.
---

The Mighty Miss Malone
by Christopher Paul Curtis
Ages 10–14
In 1936 Gary, Indiana, the Great Depression causes Roscoe Malone to lose his job. He leaves for Flint hoping to find another job, leaving his wife, son Jimmy, and daughter Deza (12) behind. When Deza's mother also loses her job, the family becomes homeless and sets off to Flint. In a camp on the journey, Jimmy's beautiful voice is recognized, and he leaves to pursue a career as a performer. Deza and her mother find a new home and cling to the hope that they will find her father. (Deza makes an appearance as a minor character in Bud, Not Buddy.)
---

The Midwife's Apprentice
by Karen Cushman
Newbery Medal 1996


Ages 10–up
In medieval England, a young girl rises from dire poverty by becoming the apprentice to Jane Sharp, a cranky and bossy midwife. First known as Beetle, since she was found living in a dung heap, the girl struggles to learn the skills of her new profession. As she grows in knowledge and self-confidence, the girl finally respects herself enough to choose a real name: Alyce.
---

Will Sparrow's Road
by Karen Cushman
Ages 10–14
Abandoned by his mother and sold to an innkeeper for an unlimited supply of ale by his father, Will Sparrow (13) is a self-confessed liar and thief. Running away from the inn, Will sets out on the open road, trying to outsmart the thieves, tricksters, and con artists, and repeatedly being taken advantage of. Will finally ends up with Master Tidball and his caravan of oddities, befriending Grace, a girl billed as a monster because of the silky hair growing on her face. Elizabethan England comes to vivid life in this lively and amusing tale.
---

The Year We Were Famous
by Carole Estby Dagg
Ages 12–up
Clara (17), who dreads settling down with the boring young farmer who wants to marry her, is convinced by her mother to take a 4,000 mile walk to save their farm from foreclosure. Inspired by Nellie Bly's trip around the world, Clara's mother accepts a $10,000 challenge from a publisher to walk from Washington state to New York City in seven months. Based on the real journey taken by the author's great-aunt and great-grandmother, this exciting book recreates the hardships and adventures the two women faced as they learned to rely on each other and the kindness of strangers to find food and shelter along the trek.
---

The Cheshire Cheese Cat: A Dickens of a Tale
by Carmen Agra Deedy, Randall Wright, Barry Moser
Ages 8–12
Skilley is an alley cat who longs for a comfortable life at the Cheshire Cheese Inn, the pub where Charles Dickens is struggling to write the opening of his new novel. When given the job of mouser, Skilley strikes a bargain with Pip, the lead mouse: Skilley will protect the mice if they supply him with the tasty Cheshire cheese produced by the inn. The unlikely pair work together to restore Maldwyn, a wounded raven, to his rightful place serving Queen Victoria in The Tower. This delightful book is beautifully illustrated.
---

Titanic Sinks!
by Barry Denenberg
Ages 10–up
This intriguing mix of fact and fiction gives a "you are there" feeling to the infamous disaster, commemorating 100th anniversary of the sinking of the Titanic. Fictional characters supplement the recollections of actual survivors, presented in the pages of a fictional magazine. Period photographs add to the dramatic effect.
---

Annexed
by Sharon Dogar
Ages 12–up
On July 13, 1942, 15-year-old Peter van Pels and his family entered the attic that would be their home for two years. Written from the viewpoint of 15-year-old Peter van Pels, this captivating historical novel presents a boy struggling to understand himself, religion, and the members of the Frank family who share the small living space. Peter's growing interest in Anne will intrigue readers of The Diary of Anne Frank. Ending with reports from the death camps of Auschwitz and Mauthausen, Peter struggles to maintain his sense of identity to the very end.
---

These Shallow Graves
by Jennifer Donnelly
Ages 12–up
It's 1890 and rich and beautiful Josephine Montfort is expected to marry a suitable man as soon as she graduates from Miss Sparkwell's School for Young Ladies in New York City. Secretly, Jo dreams of becoming a newspaper reported like Nellie Bly. When Jo's father is found dead, presumably in an accident while cleaning his pistol, Jo knows he was far too smart to clean a loaded gun. She doesn't believe the rumors of suicide either, and teams up with Eddie Gallagher, a young reporter, to discover the truth.
---

Anybody Shining
by Frances O'Roark Dowell
Ages 10-12
Arie Mae Sparks (12) is imaginative and full of energy, and considered a bit strange by her small 1920s North Carolina town. Arie Mae longs for a true friend, a friend that shines, but she doesn't have much choice in her small community. Arie Mae begins writing letters to a distant cousin she has never met, hoping she might be the friend she needs. Then a visiting boy named Tom catches her interest. He limps, and isn't a girl, but Arie Mae is sure a light shines from inside him, as she confesses in a letter to her cousin Caroline, who never answers her letters.
---

Stella by Starlight
by Sharon M. Draper
Ages 9–13
Stella (11) lives in segregated 1932 Bumblebee, North Carolina. Some stores she can go inside, others she can't. But at least the Ku Klux Klan hasn't bothered their community for years. But one night Stella and her little brother are out late at night and witness a meeting of the Klan, a signal of trouble to come to the black community of Bumblebee. Stella envies the fine school buildings for the white children and dreams of becoming a writer. Her father is equally determined to vote. This compelling story of a community that comes together to find the strength to fight injustice features a humble heroine who doesn't recognize the power of her own words.
---

Da Vinci's Tiger
by L.M. Elliott
Ages 13–up
Ginevra de' Benci (17) is the pampered daughter of a wealthy family trapped in an unfullfilling arranged marriage in Renaissance Florence. Bernardo Bembo, the new ambassador from Venice, introduces Ginevra to a stimulating group of artists and philosophers and their patrons. Bembo chooses Ginevra as his Platonic muse and commissions her portrait by the young Leonardo da Vinci. During the long sessions posing for the portrait, Ginevra bonds with the talented painter. This intriguing novel is based on the real-life Ginevra de' Benci who posed for one of Leonardo da Vinci's earliest masterpieces.
---

To the Big Top
by Jill Esbaum
Ages 5–8
Benny and his friend Sam land jobs helping with the elephants when the circus comes to town. As the boys move from backstage to choice seats in the Big Top, this book captures the excitement of the circus arriving in small town America in the late 1800s.
---

March On! The Day My Brother Martin Changed The World
by Christine King Farris, London Ladd
Ages 9–12
Christine King Farris

, Martin Luther King, Junior's older sister describes the 1963 March on Washington with an intimate down-to-earth perspective, presenting her brother as a man rather than as an icon.
---

Saint Training
by Elizabeth Fixmer
Ages 9–12
It's the late 1960s, and sixth-grader Mary Clare longs for the quiet orderly life of the convent. The fourth of nine children in a Catholic family in a small town in Wisconsin, Mary Clare works hard to help her mother maintain some sort of order in their chaotic household, while writing letters to a Mother Superior, describing her daily life and hopes for the future. Mary Clare's older brothers argue about the Vietnam War (one wants to enlist, the other applies for conscientious objector status), her mother is depressed with yet another pregnancy, and Mary Clare struggles for acceptance among her Protestant neighbors and at school where she feels ashamed of her poverty. This painfully honest novel is both funny and hopeful.
---

Locomotive
by Brian Floca
Ages 4–10
It's the summer of 1869, and the Transcontinental Railroad has just been completed. A mother and her two children board the train in Omaha, leaving their old home behind to join Papa who has gone ahead to Sacramento, California to prepare their new home. Details about the construction of the railroad and the crew it takes to run the train provide background to the small family enjoying the cross-country journey.
---

The Charmed Children of Rookskill Castle
by Janet Fox
Ages 10–up
Katherine (12) and her two younger siblings are sent away from London along with a group of classmates to keep them safe during the bombings of the 1940s Blitz. Rookskill Castle, owned by a distant relative, is an ancient place in the Scottish highlands. But the castle appears to be haunted, and by something far more dangerous than ghosts. Kat believes that Lady Eleanor is hiding a Nazi spy, but when her classmates begin disappearing one by one she fears that the danger may be even older and more terrifying.
---

Dreams of Significant Girls
by Cristina García
Ages 12–up
This story of three girls who spend summers in an exclusive boarding school in Switzerland begins in 1971. The three girls from very different backgrounds form a bond as they spend the summer as roommates and the school year apart. Shirin is a pampered Iranian, Ingrid is a sexually adventurous German-Canadian with a talent for photography, and Vivien is a Cuban-Jewish New Yorker with a flair for the culinary arts. The boarding school setting provides an intriguing background for this coming of age story celebrating the power of female friendships.
---

The Red Necklace
by Sally Gardner
Ages 12–up
This suspenseful and haunting book is set during the French Revolution. Yann Magoza, an orphan traveling with a troupe of magicians, can read minds. While performing at a castle, Yann meets Sidonie, the daughter of a cruel marquis, and a scheming count murders one of the troupe of magicians.
---

The Inquisitor's Tale: Or, The Three Magical Children and Their Holy Dog
by Adam Gidwitz, Hatem Aly
Ages 10–up
In 1242 France, travelers at an inn tell stories of three children and their dog Gwenforte, who miraculously returned from the dead. Jeanne is a peasant girl who can see the future, William is of African heritage and has amazing strength, and Jacob is a Jewish boy with the power to heal the sick. The travelers wonder if the three children are saints, frauds, or in league with the devil as they tell of their individual encounters with the trio. A flatulent dragon adds to the mystery and fun.
---

Storyteller
by Patricia Reilly Giff
Ages 8–14
While staying with her aunt, Elizabeth finds a portrait of Eliza, known as Zee, an ancestor who looks just like her. Zee's father died in the American Revolution, and her mother when their cabin was ambushed. A map on the back of the sketch helps Elizabeth puzzle out the story of Zee's life. As Elizabeth follows in Zee's footsteps, the stories of the two girls intertwine as each searches for inner strength and a sense of belonging.
---

Once
by Morris Gleitzman
Ages 12–up
Everybody deserves to have something good in their life at least once, believes Felix, a 10-year old Polish Jew, who runs away from a Catholic orphanage to search for his parents. After finding his home occupied by hostile neighbors, Felix lives in hiding, in constant fear of discovery, as he slowly becomes aware of the Nazi atrocities. Felix's traumatized present-tense narrative drives this powerful novel which manages to find welcome bits of humor and heroic kindness in the midst of horror and tragedy.
---

Then
by Morris Gleitzman
Ages 12–up
Felix (10) and Zelda (6) have escaped from the train carrying Jews to the death camp, but as two children alone in Nazi-occupied Poland they are surrounded by danger. Felix uses his masterful storytelling skills to create new denies for himself and Zelda, allowing them to live safely in public for a time. Seeking to protect each other, the two children secretly put a locket containing a picture of Zelda's Nazi parents among the other's possession. They form a family with a woman named Genia and begin to heal, but with no certainty that their temporary safety will last. (sequel to Once)
---

Now
by Morris Gleitzman
Ages 10–up
Felix is now a grandfather living in Australia. His ten-year-old granddaughter Zelda continues the story, describing the 2009 heat wave and devastating bush fires. When Felix confronts some local bullies, Zelda gets a rare glimpse into her grandfather's past. Felix's survivor's guilt and Zelda's doubts that she will ever live up to the courage of her namesake both come into play in this poignant close to the powerful trilogy that began with Once and continued in Then.
---

The Diamond of Drury Lane
by Julia Golding
Ages 10–14
Cat has lived in the Drury Lane Theater Royal ever since she was abandoned as a baby and taken in by Mr. Sheridan, the owner of the theater. After Cat sees Mr. Sheridan hiding a valuable diamond, she and her friends decide to help safeguard the treasure. Set in 1790s London, England, this thrilling mystery will keep readers glued to the pages. (first in a projected quartet)
---

Poisoned Honey

A Story of Mary Magdalene
by Beatrice Gormley
Ages 12–up
Mari (13) wants to be in control of her own destiny, but women in 1st century Palestine have little power, so Mari submits to an arranged marriage. But her father and fiancé die of fever and Mari finds herself at the mercy of others. An Egyptian wisewoman teaches Mari the ways of the occult arts and she is gradually consumed by evil spirits before her eventual redemption. This biblical fiction brings the culture of early Palestine to vivid life.
---

Picture the Dead
by Adele Griffin, Lisa Brown
Ages 12–up
When Jennie's twin brother dies in the Civil War in 1864, Jennie feels his loss like a wound. A year later, her cousin Quinn arrives home to Massachusetts with the news that his brother Will, Jennie's fiancé, is also dead. Quinn, who is much changed by the war, begins to court Jennie, who responds though she senses that something mysterious surrounds Will's death. Jennie is haunted by both her dead brother and Will, and suffers a recurring sensation of being choked. Newspaper clippings, scrapbook entries, and black-and-white drawings illustrate Jennie's first person narration in this effective gothic ghost story portraying a country recovering from the horrors and loss of war.
---

Ivy
by Julie Hearn
Ages 12–up
Two 19th century London women of the Ragged Children's Welfare Association rescue the orphan Ivy, a Pre-Raphaelite beauty, who has been discarded by her family as useless. The laudanum addicted Ivy spends most of her time in a swoon, but the other characters scheme and frolic in this lush absorbing novel.
---

Wicked Girls: A Novel of the Salem Witch Trials
by Stephanie Hemphill
Ages 12–up
It began as a girls' game, but ended as a witch hunt. When two village girls fall ill and accuse neighbors as witches, Ann, Mercy, and Margaret jump on the chance to have influence over others and begin to accuse neighbors who have harmed them or their families. Told in verse from each girl's perspective, this powerful novel explores the motivations that could have driven the girls to make the false accusations that resulting in the hangings of 19 people in 1692. And the motivations are all too believable—jealousy, boredom, longing for friendship and acceptance—inspiring uncomfortable parallels to group dynamics of modern teens.
---

Brooklyn Bridge
by Karen Hesse, Chris Sheban
Ages 10–14
It's 1903 in Brooklyn and all 14-year-old Joseph Michtom wants to do is go to the brand-new amusement park at Coney Island. But his Russian immigrant parents have just invented the stuffed teddy bear, and Joseph is too busy working to have fun. Meanwhile the street children living under the Brooklyn Bridge are haunted by a ghost they call the Radiant Boy.
---

Out of the Dust
by Karen Hesse
Newbery Medal 1998


Ages 11–up
Billie Jo (14) records the grim realities of living in the Oklahoma dust bowl during the Depression. In her free verse journal, she reveals her mother's death and her own burns in a fire and her father's grief. Billie Jo's hope for a better future shines through all the pain and struggle to survive.
---

Girl in the Blue Coat
by Monica Hesse
Ages 12–up
In 1943 Nazi-occupied Amsterdam, teenager Hanneke Bakker helps support her family by delivering black market goods while mourning the death of her boyfriend, killed on the Dutch front lines when the Germans invaded. Mrs. Janssen, one of her customers, asks for help locating Mirjam, a 15-year old Jewish girl who was hiding in a secret room in Mrs. Janssen's home. Hanneke at first wants nothing to do with the dangerous search for the missing girl, but soon learns more than she wants to know about the horrors Jewish people are suffering under the Nazis, realizeing that refusing to join the underground resistance will make her part of the evil Nazi war machine.
---

The Black Book of Secrets
by F.E. Higgins
Ages 10–14
Young Ludlow Fitch, fleeing a terrible past, arrives in a peaceful village. Ludlow becomes the assistant to the mysterious pawnbroker who trades cash for people's deepest, darkest secrets. It's Ludlow's job to record the secrets in the leather bound Black Book of Secrets. The vaguely Dickensian late 1800s atmosphere is the perfect backdrop for this historical fantasy.
---

The Bone Magician
by F.E. Higgins
Ages 10–14
Young Pin Carpue is left to survive on his own in the crime-ridden city of Urbs Umida when his father, a suspected murderer, disappears. Pin gets a job as a corpse watcher, standing guard in the morgue for three days to ensure that the deceased really are dead and not just sleeping. There he meets the Bone Magician who claims to be able to reanimate the dead to answer last questions from the living. This dark and funny fantasy is a companion volume to The Black Book of Secrets.
---

The Eyeball Collector
by F.E. Higgins
Ages 10–14
Young Hector finds himself alone, homeless, and penniless when his father dies after being blackmailed and disgraced. Hector sets out to find revenge against the man he thinks is responsible for the blackmail—Gulliver Truepin, a one-eyed con artist who steals jewels to make a different jeweled eyeball for each day of the week. The two end up at Withypitts Hall, home of the cruel Lady Mandible and all plots come together on the night of an extravagant feast. (Companion volume to The Black Book of Secrets and The Bone Magician)
---

The Trouble with May Amelia
by Jennifer L. Holm, Adam Gustavson
Ages 8–10
May Amelia (12) lives on a farm in Washington state in 1900 with her parents, Finnish immigrants, and seven brothers. Life is hard, especially when your father doesn't think girls are worth much, but May Amelia manages to have plenty of fun as she defends her beloved teacher from persistent suitors. When Pappa asks May Amelia to translate for a gentleman who is interested in buying their land, she thinks she has finally earned her father's respect, until the gentleman turns out to be a scoundrel. A salting of Finnish phrases and accurate historical details spice up this historical fiction, a sequel to Our Only May Amelia.
---
Turtle in Paradise
by Jennifer L. Holm
Ages 8–12
Turtle (11) knows that life isn't like the happy Hollywood movies her mother adores. It's 1935 and jobs are scarce, so when her mother gets a job as a live-in housekeeper with a woman who doesn't like children, Turtle heads off without complaint to stay with relatives she's never met in Key West, Florida. Turtle's dreamy mother insists that Turtle is going to live in paradise, but down-to-earth Turtle doesn't expect much. Eventually Turtle warms to her eccentric relatives and begins to see the natural beauty hidden under the trash. Turtle's amusing first-person narration brings the Depression era to vivid life.
---

The Water Seeker
by Kimberly Willis Holt
Ages 10–14
Jake Kincaid is a skilled dowser, a finder of water, but leaves that calling behind to become a trapper in 1833. He returns a year later to find that his wife has died, leaving him a baby named Amos. Jake leaves Amos to be raised by his relatives in Nebraska, returning each summer to visit. In 1841, Jake brings his new Shoshone wife with him and they take Amos with them to Missouri. When Amos is 13, the family joins a wagon train headed west on the Oregon Trail. The hardships of the journey are beautifully portrayed in this historical coming-of-age novel.
---

Mao and Me
by Chen Jiang Hong
Ages 8–12
Chen's direct and honest picture book memoir of growing up during the Cultural Revolution is an excellent representation of political upheaval seen through the eyes of a child. Ink and wash paintings document both beautiful moments and unpleasant events.
---

A Bandit's Tale: The Muddled Misadventures of a Pickpocket
by Deborah Hopkinson
Ages 8–12
Rocco Zaccara (11) is sold by his poverty-stricken parents to a padrone in New York City who compells his group of children to earn money by performing as street musicians. Rocco joins a band of pickpockets to save enough money to buy his way back home to Italy. He is uncomfortable stealing money until he meets Meddlin' Mary, a young Irish girl who works with her father to take care of the city's mistreated and overworked horses. First person narration brings this late 19th-century picaresque tale to life.
---

The Great Trouble: A Mystery of London, the Blue Death, and a Boy Called Eel
by Deborah Hopkinson
Ages 10–up
Eel is an orphan and a mudlark, combing through the filthy banks of the Thames for anything he can sell to earn enough to survive. 1894 London is a dangerous place during the cholera outbreak, but Eel is also pursued by his evil stepfather. Polluted air is blamed for the cholera epidemic, but Eel and his mentor Dr. Snow believe the disease is being spread through a local water pump. This exciting tale mixes mystery, science, medicine, and history.
---

Hero on a Bicycle
by Shirley Hughes
Ages 10-14
1944 Florence is occupied by the Germans. Rosemary and her children, Paolo Crivelli (13) and his sister Constanza (16), feel isolated and oppressed by the Nazi security rules and the suspicion of their neighbors, who believe their absent father may be a Partisan, part of the pro-Allied resistance. Against all the rules, Paolo secretly violates curfew every night by riding his bicycle around the town. One night Paolo is approached by the Partisans, asking for his British mother's help in sheltering escaped Allied prisoners of war. This tense historical thriller, told from the perspective of all three characters, captures the dangers and uncertainties of war.
---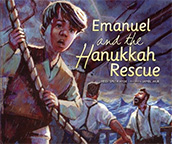 Emanuel and the Hanukkah Rescue
by Heidi Smith Hyde, Jamel Akib
Ages 5–9
Emanuel and his father live in the whaling town of New Bedford, Massachusetts in the 18th century. Emanuel's father lived as a secret Jew in Poland and still fears religious persecution, refusing to place the menorah lights in the window to celebrate Hanukkah. Emanuel stows away on the whaling ship, and when a storm overtakes the ship, the family menorah lights the way home.
---

Through No Fault of My Own: A Girl's Diary of Life on Summit Avenue in the Jazz Age
by Coco Irvine
Ages 12–up
Clotilde "Coco" Irvine, the daughter of a wealthy lumber baron, lived in a mansion in St. Paul, Minnesota. Her diary from 1927, the year she turned 13, presents a precocious and daring girl who gets into frequent trouble at school and at home. Recently discovered in the archives of the Minnesota Historical Society, Coco's diary is reprinted virtually unchanged. Many entries begin, "I'm in deep trouble through no fault of my own…" Coco's descriptions of her adventures, problems, and romances will captivate modern readers as she explains her side of the messes she created.
---

Sarah Emma Edmonds Was a Great Pretender: The True Story of a Civil War Spy
by Carrie Jones, Mark Oldroyd
Ages 7–12
Sarah Emma Edmonds began pretending at a young age. Her father wanted a son, so Sarah pretended to be a boy. When she was a teenager, Sarah realized she would never be the son her father wanted, so she ran away from Canada to America, where she assumed the identity of Frank Thompson. In 1861 she joined the Union Army as a male nurse. When the Union Army needed a spy, she volunteered, pretending to be a male African American slave, a female Irish peddler, and a female African American laundress in order to slip behind enemy lines and gather information. Sly illustrations capture Sarah's joy in her successful deceptions.
---

Kira-Kira
by Cynthia Kadohata
Newbery Medal 2005


Ages 11–14
In the 1950s, when Katie is five, her family moves from Iowa to Georgia, where there are few Japanese-Americans. Katie's older sister Lynn takes care of her while their parents work long hours in the chicken-processing plant. Their roles reverse when Lynn develops lymphoma. Through the illness and Lynn's death, Katie struggles to remember her sister as kira-kira, glittering and shining. Narrated by Katie, this beautifully written book tells a poignant story of love and loss.
---
The Great War: Stories Inspired by Items from the First World War
illustrated by Jim Kay
Ages 12–up
Each of the 11 short stories in this collection marking the centenary of WWI was inspired by an artifact from the war. Striking black and white photographs accompany each story, by authors including David Almond, Michael Morpurgo, Marcus Sedgwick, and Sheena Wilkinson.
---

Dogs of War
by Sheila Keenan, Nathan Fox
Ages 8–12
The three historical fiction stories in this book focus on soldiers and their dogs in three different wars. In WWI, Marcellinus McDonald (16) is a doctor's assistant on the Western Front in 1914, and Boots is his beloved "mercy dog," who finds the wounded in No Man's Land. Loki is a sled dog in a rescue unit stationed in 1942 Greenland, where his master relies on him in a solo encounter with some Nazis. The final story is about a boy named Henry in 1968 North Carolina whose struggles to control his beagle puppy bring him friendship with a recently returned Vietnam vet haunted by his experience on patrol with his German shepherd, Sheba.
---

The Evolution of Calpurnia Tate
by Jacqueline Kelly
Ages 10–up
Eleven-year old Calpurnia (Callie) Tate is a middle child with six brothers in isolated 1899 Fentress, Texas. To her family's distress, Callie isn't interested in normal girl occupations and would rather learn about the natural world with her grandfather. As Callie grows through the year of this book, she gradually defines for herself what it means to be a girl. (2010 Newbery Honor Book)
---

Dangerous Neighbors
by Beth Kephart
Ages 12–up
Katherine is still consumed by grief over the death of her identical twin sister Anna in a skating accident months ago. Feeling responsible for her sister's death, Katherine has decided to take her own life, but is continually drawn to the wonders of the 1876 Philadelphia Centennial Exhibition. Among the crowds of strangers, Katherine loses herself in memories of the past and her sister's secret romance with a "dangerous neighbor" that precipitated the sequence of events leading to Anna's death. Set against a detailed background of America's first World's Fair, this engrossing novel presents themes of love and loss, guilt and betrayal, despair and hope.
---

City of Spies
by Susan Kim, Laurence Klavan, Pascal Dizin
Ages 12–up
Evelyn's mother is gone and her father is too busy to take car of her, so she is sent to live with her aunt in New York City. It's 1942 and Evelyn spends most of her time reading superhero comics and dreaming of catching a Nazi spy. Tony, the son of the building superintendent, catches Evelyn's spy fever and the two stumble over a real-life Nazi plot. This graphic novel features art reminiscent of Hergé's Tintin and explores themes of friendship, social class, and abandonment while never losing touch with the scary adventure.
---

Keeping the Castle
by Patrice Kindl
Ages 12–up
Althea Crawley (17) must marry a rich man if she is to keep the family castle from ruin and support her widowed mother and younger brother. Unfortunately there aren't many wealthy bachelors in the small Yorkshire town of Lesser Hoo. Then Lord Boring arrives (young, rich, and available) and Althea sets her plans in motion. The only problem is Lord Boring's companion Mr. Fredricks, who always seems to come between them. Set in the 19th century, this witty novel features an endearing and ingenious heroine.
---

A Taste for Monsters
by Matthew J. Kirby
Ages 12–up
It's 1888 in London, and Jack the Ripper is terrorizing the city. Evelyn, a young woman disfigured by her dangerous work in a matchstick factory, has been hired as a maid for Joesph Merrick, known as the Elephant Man because of his deformities. Evelyn's jaw has been destroyed by phosphorus necrosis, and she is happy to hide away in London Hospital with Merrick, once she can see past his deformities to his gentle nature. Merrick is haunted by the ghosts of Jack the Ripper's victims, and Evelyn ventures from the safety of the hospital to the dangers of the slums to put the ghosts to rest.
---
Between Two Worlds
by Katherine Kirkpatrick
Ages 14–up
Billy Bah (16) lives in Itta, Greenland, about as far north as you can get. As a child, Billy lived in America with Arctic explorer Robert E. Perry and his family. Back in Greenland and married to another Inuit, Billy spots an American ship bringing supplies for Perry. Billy's husband begins trading her to an American sailor, a common Inuit practice in 1900, and she finds herself becoming attracted to the American. Rich details of Inuit life provide the background to the story of a young woman caught between cultures.
---

The Green Glass Sea
by Ellen Klages
Ages 10–14
It's 1943 and 10-year-old budding inventor Dewey Kerrigan sets off with her father to do secret war work in New Mexico. As the adults work on "the gadget," the kids at Los Alamos are often left to their own devices. When the atomic bomb tests are finally successful, both children and adults grapple with the ethical implications as they realize how "the gadget" will be used. The unique atmosphere of the secretive scientific community is clearly presented in this excellent historical novel, but the true nature of "the gadget" may not be understood by kids who don't know it already.
---

White Sands, Red Menace
by Ellen Klages
Ages 10–14
It's 1946, and Suze and Dewey are living near Los Alamos with Suze's parents who helped build the atom bomb with Dewey's late father. Suze's father is working on rockets to maintain the US edge over the Soviets while her mother organizes scientists against the war. This excellent historical fiction helps middle graders grapple with moral dilemmas while creating strong characters with realistic emotional issues. (sequel to The Green Glass Sea)
---

Freedom Stone
by Jeffrey Kluger
Ages 9–12
When the Confederate Army promised freedom to the family of any slave who served in the army, whether he made it home or not, Lillie's father decided he had to take the chance. But when Lillie's father is killed in the war, the army claimed he was a thief and the plantation master refused to free the family. In fact, he decided to sell Lillie's little brother Plato. With the help of another slave, Lillie travels to the battlefield to prove her father's innocence and win freedom for her family.
---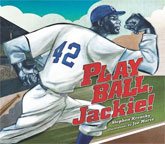 Play Ball, Jackie!
by Stephen Krensky, Joe Morse
Ages 7–10
It's 1947, and 10-year-old Matty Romano is going to his first baseball game with his father to see the Brooklyn Dodgers, his favorite team. It's also the first day for Jackie Robinson, the first Black baseball player in the major leagues. The crowd is divided between those who are outraged and those who just want to see good baseball players, no matter what their color. Matty's conversations with his father provide an intimate look at this historic baseball game.

Listening for Lucca
by Suzanne LaFleur
Ages 8–12
About two years ago Siena (now 13) began to dream about a house by the sea and war planes crashing. Around the same time, Siena's little brother Lucca (now 3) stopped talking. Obsessed by visions from the past, Siena grows apart from her friends and begins collecting abandoned objects. Hoping that a change of scene will help both children, their parents move the family from Brooklyn to Maine, moving into a house that has an eerie resemblance to the one from Siena's dreams. Siena connects to the ghost of a dead girl from the past, whose brother died in WWII. This suspenseful book is an engaging mix of history, mystery, and family life.
---

Hell and High Water
by Tanya Landman
Ages 12–up
Caleb, the dark-skinned son of a white puppeteer, has always helped his father with their Punch and Judy shows until his father is arrested for a theft he didn't commit and sentenced to be transported to the American colonies. Caleb is sent to live with an aunt he didn't know he had. She welcomes him, but the other villagers are suspicious of Caleb's dark skin. A body washes up on shore with an unrecognizable face but wearing Caleb's father's ring. Then his uncle returns from sea acting very strangely. Caleb is determined to find the truth despite racism and danger.
---

Audacity Jones to the Rescue
by Kirby Larson
Ages 8–12
Audacity Jones (11) is an orphan living in Miss Maisie's School for Wayward Girls in Swayzee, Indiana, in 1910. Audie has a pet cat named Minivar, a good friend, and plenty of books to read, but longs for adventure. When Commodore Crutchfield whisks her off to Washington, DC, Minivar slips into the car. Audie isn't sure she can trust the Commodore, and makes friends with a newsboy named Juice and his grandfather, who works in the White House stables. This clever historical mystery is the first in a planned series.
---

Dash
by Kirby Larson
Ages 8–12
After the Japanese attack on Pearl Harbor life changes for Mitsi Kashino (11) and her Japanese-American family. Mitsi tries to stay strong as she and her family are taunted, shunned, fingerprinted, and told they will be relocated to in interment camp. The news that she cannot take her beloved dog Dash to the camp, Mitsi begs her neighbor, Mrs. Bowker, to take care of Dash. Mrs. Bowker agrees to take care of Dash, and writes letters from Dash to Mitsi that follow the family from Seattle, Washington, to Minidoka, Idaho.
---

Duke
by Kirby Larson
Ages 8–12
Hobie Hanson (11) is determined to do everything he can to help the war effort while his father is overseas flying B-24s in WWII. He makes do with less, collects rubber, and buys War Bonds. When his father is taken prisoner, Hobie decides to donate his beloved German Shepherd Duke to Dogs for Defense, which trains dogs to act as act as sentries, mine sniffers, and patrol dogs for the military. Hobie immediately regrets his decision, and does everything he can to get Duke back, even answering letters from Duke's Marine handler with misinformation. Finally Hobie divulges information that enables Duke and his handler to save lives in battle.
---

Terrorist: Gavrilo Princip, the Assassin Who Ignited World War I
by Henrik Rehr
Ages 13–up
Little is known about Gavrilo Princip, the young Serbian nationalist who assassinated Archduke Franz Ferdinand of Austria and set in motion the events leading to World War I. The 9/11 attacks in New York City caused the Henrik Rehr to wonder what drove ordinary people to become terrorists. This gripping graphic novel imagines the details that drove the young man from poverty-stricken Bosnia to contemplate murder as the only possible solution.
---

The Best Bad Luck I Ever Had
by Kristin Levine
Ages 10–up
It's 1917 in a small town in Alabama and 12-year-old Dit has been looking forward to the arrival of the new postmaster who is said to have a son his age. But when the new family arrives, the son turns out to be a girl called Emma. And everyone is surprised that the new family is "colored." But Dit is impressed with Emma's intelligence and determination and he begins to reconsider his views about race and justice.
---

The Lions of Little Rock
by Kristin Levine
Ages 10–up
It's 1958, the year after the Little Rock Nine integrated the city's public high schools, and Little Rock has closed the high schools rather than follow the federal mandate to integrate. Twelve-year old Marlee, who doesn't speak outside her family, has no friends at school until befriended by Liz, the new girl. Liz begins to coax Marlee out of her silence and then suddenly disappears. Rumors fly that Liz was a colored girl passing for white. Marlee is determined to stay in touch with the only close friend she ever had, and struggles to find the courage to speak out.
---

Nine Open Arms
by Benny Lindelauf
Ages 9–up
The motherless Boon family are down on their luck when the move to a leaky old house on the edge of a small Dutch town in 1937. Fing (10) and her sisters are sure that the house and the cemetery are haunted by tragedy. Against their grandmother's orders they explore the dark cellar and venture through the strange hole in the hedge. Their father's latest get-rich-scheme falls apart as usual, and there is a bully at the new school, but the mystery of their isolated location gives the children plenty to keep their minds off other things. Four older brothers add to the chaos of this engaging family.
---

Crow Call
by Lois Lowry
Ages 6–12
Lizzie's father has been away in WWII for longer than she can remember, so the fall hunting trip the two take together after his return is awkward. But her father respects her wishes, even when they are fanciful, and gives her the crow call to summon the birds. To Lizzie's relief, her father never fires his gun on the magical day. Based on Lowry's own childhood, this picture book is a loving look at the relationship between parent and child. Though set in the past, it is fully relevant to today's military families.
---

Number the Stars
by Lois Lowry
Newbery Medal 1990


Ages 10–up
It's 1943 in Nazi-occupied Denmark, and the Jews are about to be rounded up and sent to the death camps. Annemarie Johannesen's best friend Ellen Rosen is Jewish. The Johannesen family helps Ellen's parents go into hiding and take Ellen into their own home, pretending she is part of their family. Narrated by 10-year-old Annemarie, this book vividly portrays the Nazi threat and the courage it takes to help friends while possibly endangering your own family. This moving and suspenseful book is based on true events.
---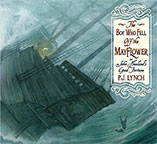 The Boy Who Fell Off the Mayflower, or John Howland's Good Fortune
by P.J. Lynch
Ages 7–10
Based on historical facts, this accessible account of the voyage of the Mayflower and the first year of the Pilgrims in America is narrated by real-life indentured servant John Howland. Beginning in 1620s London, John tells the story of his fall overboard during a storm and his early experiences in the new world. The detailed illustrations are stunning.
---

Sarah, Plain and Tall
by Patricia Maclachlan
Newbery Medal 1986


Ages 8–12
In the late 19th century, a widowed midwestern farmer with two children, Anna and Caleb, advertises for a wife. Sarah responds, saying that she is plain and tall. When Sarah arrives she is homesick for Maine, and especially for her beloved ocean. The children fear she will not stay. Narrated by Anna, this short book gently explores abandonment, loss, and love.
---

Egg and Spoon
by Gregory Maguire
Ages 12–up
Elena Rudina lives in the Russian countryside with her dying mother in a tiny hut with very little food. Her father has been dead for years, one of her brothers was conscripted into the Tsar's army, and her other brother has been taken as a servant by the local landowner. A train arrives carrying a wealthy family on a visit to the Tsar in Saint Petersburg. When the train is stranded by a broken bridge, Elena begs for food, and meets Ekaterina, a girl of her own age. The two girls begin a tentative friendship, and when the train departs, the wrong girl is aboard. This masterful tale includes elements from Russian folklore, Cinderella, and The Prince and the Pauper.
---

Jepp, Who Defied the Stars
by Katherine Marsh
Ages 12–up
Jepp (15) is a dwarf living at the end of the 16th century. While caged and transported, Jepp looks back on his childhood at a humble inn and his life as a court dwarf at Coudenberg Palace, the royal court of the Spanish Infanta in Brussels. From that luxurious prison, Jepp finally arrives at the island castle of the astronomer Tycho Brahe. Inspired by an actual dwarf who served Brahe, this novel explores love, family, and making one's own destiny.
---

Better to Wish
by Ann M. Martin
Ages 8–12
Abby Nichols (8) is the oldest daughter of a carpenter determined to give his family a better life in 1930s Maine. Due to her father's hard work, the family prospers, moving into a bigger house in the city. But Abby is disturbed by her father's mistreatment of her mentally impaired baby brother and his orders that she is not to play with her Irish Catholic neighbors. The powerlessness of women and children during this time period is deftly portrayed.
---

A Beautiful Lie
by Irfan Master
Ages 13–up
It's 1947 in India, and Bilal (13) is determined to protect his dying father's peace of mind by concealing the imminent Partition and creation of Pakistan, which will divide the country along religious lines, separating Muslims like Bilal's family from the predominantly Hindu population. With the help of his friends, Bilal builds an elaborate deception, even printing false pages of the local newspaper to hide the truth from his father, a staunch supporter of a united India. This intense and fascinating novel deals with themes of love, loss, religious intolerance, and the wisdom of hiding the truth.
---

The Death-Defying Pepper Roux
by Geraldine McCaughrean
Ages 10–up
Pepper Roux's death by age 14 was foretold in a dream, and his aunt Mireille has prayed over him everyday. When Pepper wakes up on the morning of his 14th birthday, he is amazed to find himself still alive, and runs off to sea hoping to escape death a bit longer. Pepper then flees across the French countryside from one disastrous job to another until the totally satisfying climax.
---

Mirette on the High Wire
by Emily Arnold McCully
Caldecott Medal 1993


Ages 4–8
Mirette helps "The Great Bellini" regain his confidence while he stays at her mother's boarding house and eventually the two are walking the high wire above the rooftops of the city. Rich illustrations capture 19th-century Paris.
---

Never Fall Down
by Patricia McCormick
Ages 14–up
When the Khmer Rouge soldiers march into his village in Cambodia, Arn Chorn Pond is only 11, busy selling ice cream with his brother and dancing to rock and roll. The Communist revolution changes his life forever. Sent to a labor camp, Arn learns to be invisible, hiding from the soldiers who dispense death at a whim. Then one day the soldiers ask if any of the children can play an instrument, and Arn learns to play the revolutionary songs the soldiers demand, earning enough food to keep himself and the other children alive. This powerful true story doesn't hide the brutality of the Khmer Rouge, yet celebrates the power of the human spirit.
---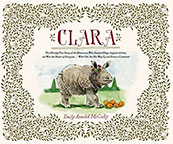 Clara: The (Mostly) True Story of the Rhinoceros who Dazzled Kings, Inspired Artists, and Won the Hearts of Everyone… While She Ate Her Way Up and Down a Continent
by Emily Arnold McCully
Ages 4–8
In 1741 Captain Douwemont Van der Meer transported a young rhinoceros he named Clara from India to his home in Leiden, Holland. Europeans had never seen a rhinoceros, and Van der Meer took Clara to Berlin, Rome, Paris, Vienna, and other cities where she amazed peasants and aristocrats alike. Poets, artists, and musicians created works in her honor, while Van der Meer struggled to raise enough money to keep Clara fed. She consumed 100 pounds of hay and 30 loaves of bread a day, and had a great fondness for oranges and beer. Every day Clara grows in size, necessitating ever larger wagons for transportation. Watercolor illustrations capture the affection between Clara and Van der Meer and the fashions of the time.
---

The Devil's Paintbox
by Victoria McKernan
Ages 12–up
It's 1865 and Aiden (16) and his younger sister Maddie are nearly starving on their late parent's farm in Kansas. The guide of a wagon train heading west offers free passage to Aiden and Maddie in return for their labor at a logging camp at journey's end. While traveling across the country, Aiden works through his despair and begins to hope again. The strong characters and honest look at our sometimes brutal history will keep teen readers glued to the pages.
---

Katerina's Wish
by Jeannie Mobley
Ages 8–12
Katerina (13) and her father are both dreamers. It was her father' s dream of owning their own farm that brought the family from Bohemia to Colorado in 1900. But it's been a year now and Papa is still working in the dangerous coal mine that was supposed to be a temporary solution to earn enough money to buy the farm. Then Trina sees a fish that reminds her of the magical wish-granting carp from an old fairy tale. When her two younger sisters' frivolous wishes are granted, Trina wishes for the farm that will make her family happy and secure. Themes of optimism versus realism, magic versus hard work, and xenophobia versus neighborliness make this debut novel stand out.
---

Ruined
by Paula Morris
Ages 12–up
Rebecca Brown (15) is sent from New York City to live with her aunt in New Orleans while her father travels overseas for a year. Rebecca feels out of place at the snooty prep school. In fact, to the rich girls she is nearly invisible. Rebecca befriends Lisette, a ghost who has haunted the cemetery since her mysterious death 155 years earlier. This atmospheric ghost story captures the rich history of New Orleans, and doesn't shy away from issues of race, ethnicity, class, and culture.
---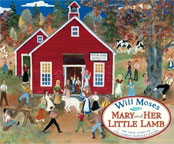 Mary and Her Little Lamb
by Will Moses
Ages 1–5
Mary Elizabeth Sawyer was a real little girl who lived on a farm in 19th century Massachusetts. When Mary nursed a newborn lamb back to health, the lamb accepted Mary as its mother and followed her everywhere, even to school one day. John Roulstone was at school that day, and wrote the famous nursery rhyme about Mary who had a little lamb. Beautiful full page paintings, by the great-grandson of Grandma Moses, illustrate the simple story.
---

The Wager
by Donna Jo Napoli
Ages 12–up
Set in 1169, this novel tells the story of Don Giovanni, a wealthy 19-year-old orphan who suddenly loses his riches and his castle in a tidal wave and is reduced to begging for food to survive. The devil appears to offer a wager—if Don Giovanni agrees not to bathe or change his clothes for three years, three months, and three days, he will receive a purse that magically refills. Giovanni's descent into foul decay and eventual redemption is colorfully portrayed in this retelling of a traditional Italian fairy tale.
---

Our White House: Looking In, Looking Out
by National Children's Book and Literary Alliance
Ages 10–up
An all-star roster of 108 children's authors and illustrators plus scholars and former White House employees and residents combine to make up this multifaceted view of the White House from the inside as well as the outside, a personal and ongoing history from 1792 to the present.
---

Auma's Long Run
by Eucabeth Odhiambo
Ages 8–up
Auma (13) loves to run, and hopes to win a track scholarship so that she can go to high school and eventually become a doctor. But then a strange new sickness arrives in her small Kenyan village, her father falls ill, and her family needs her help at home. Auma has to choose between leaving her family to go to school, or quitting school to get a job to support her family.
---

The Boundless
by Kenneth Oppel, Jim Tierney
Ages 8–12
James Everett was just another railroad worker laying track for the Canadian Pacific Railway until the day he saved the railroad's president from an avalanche in 1885. Three years later James is a railroad executive traveling with his son Will on the first journey of the Boundless, the largest train ever assembled. Among the 947 cars is a circus, and Will befriends Maren, a beautiful high wire walker. Will learns that a plot is afoot to steal treasure, including the golden spike, from the vault-like mausoleum car. This action adventure is set in a slightly alternative reality, where sasquatches roam the northern forests.
---
A Long Walk to Water
by Linda Sue Park
Ages 10–up
Based on a true story, this moving novel tells the story one of the "lost boys" from Sudan. In 1956, when Salva is 11, his school is attacked by brutal rebel solders. Covering the next 23 years of his life, Salva's narration tells of hunger, death, refugee camps, and his eventual relocation to New York. Interspersed with Salva's narrative is that of Nya, who tells of her life in modern (2008) Sudan, which revolves around her daily eight hour walk to fetch water for her family. The two stories meet when Salva returns to Sudan to help his people and builds a well in Nya's village. This honest book presents harsh realities in terrifying detail, yet ends on a note of hope for a better future.
---

A Single Shard
by Linda Sue Park
Newbery Medal 2002


Ages 10–14
In a potter's village in 12th century Korea, the orphan Tree Ear is raised by a lame straw weaver. One day Tree Ear breaks a piece of Min's pottery and pays his debt by working for the potter and dreaming of making beautiful pots himself. Tree Ear is sent by Min to the king's court, carrying an example of Min's new celadon ware. After robbers shatter the pot, Tree Ear continues the dangerous journey, now carrying only one precious single shard.
---

Jacob Have I Loved
by Katherine Paterson
Newbery Medal 1981


Ages 12–up
Growing up on Chesapeake Bay island in the early 1940s, Louise knows that like Esau from the Bible she is hated while her twin sister Caroline, like Jacob, is the one everyone loves. While the family pampers the beautiful and gifted Caroline, lonely and miserable Louise learns the way of the watermen from old Captain Wallace. Eventually Louise learns that she has her own strengths.
---

Woods Runner
by Gary Paulsen
Ages 12–up
Sam (13) is a skilled hunter, a "woods runner" with an instinctive knowledge of the western Pennsylvania forest. When word of the fighting between the British and the American colonists reaches the family, they worry that their safe world is endangered. One day Sam returns from hunting to find the houses in their settlement burned to the ground and the scalped bodies of neighbors. Sam sets off on a harrowing quest to find and rescue his parents, taken prisoner by British soldiers aided by Iroquois. Interspersed historical sections help place Sam's struggle in context.
---

A Year Down Yonder
by Richard Peck
Newbery Medal 2001


Ages 10–up
It's 1937 and Mary Alice (15) is banished from Chicago to spend a year with Grandma Dowdel in rural Illinois while her parents struggle to make ends meet and her brother Joey heads west with the Civilian Conservation Corps. Mary Alice knows it won't be easy being the new city kid in a country school, especially with an outrageous relative like Grandma. This hilarious and touching book is the sequel to A Long Way to Chicago.
---
Isabel's War
by Lila Perl
Ages 8–12
Isabel Brandt (12) lives in 1942 New York City. Like most girls her age, the war in Europe seems very far away. Then Helga, a refugee from Germany arrives. At first jealous and resentful of the beautiful stranger, Isabel is horrified when she learns of Helga's horrific experiences in Germany before being transported to England as part of the Kindertransport. Learning the truth about the treatment of Jews by Nazis changes Isabel, and she begins to try to help Helga come to terms with her guilt for escaping and leaving her family behind.
---

The Mostly True Adventures of Homer P. Figg
by Rodman Philbrick
Ages 9–12
When Uncle Squinton sells off Homer P. Figg's older brother Harold to take the place of a rich man's son in the Union army, Homer sets off to rescue him. Told in the form of a rip-roaring yarn, Homer's adventures are exciting and funny, but the horror of war and injustice of slavery aren't ignored. (2010 Newbery Honor Book)
---

January's Sparrow
by Patricia Polacco
Ages 8–12
The Crosswhite family witness the brutal whipping of January, a slave caught while trying to escape, and flee the Kentucky plantation in the middle of the night. Young Sadie is heartbroken when she realizes she has left the wooden sparrow January carved for her, her only memento of her dead friend. The Crosswhites travel through the Underground Railroad to Marshall, Michigan, where they finally live in freedom. Then January's sparrow appears on their doorstep. Based on a true story, this book is both horrifying and empowering.
---

Heart of a Samurai
by Margi Preus
Ages 10–14
In 1841, Japan is closed to outsiders, and Japanese leaving the country are not permitted to return. Manjiro Nakahama (14) is out fishing with four others when a storm destroys their small boat and strands them on a small island. Rescued five months later by an American whaling ship. Manjiro's companions are frightened of the "barbarians," but he is curious to learn more about the world. Adopted by the captain, Manjiro learns English and the whaling trade, and eventually becomes the first Japanese to come to America. Despite prejudice, hardships, and homesickness, Manjiro never loses his curiosity. After living in New England, Manjiro travels to California to pan for gold, and eventually makes his way back to Japan, where he is imprisoned as an outsider. Period illustrations by Manjiro himself, as well as new art by Jillian Tamaki, enliven this fictionalized true story.
---
Sovay
by Celia Rees
Ages 12–up
Raised in the English countryside during the French Revolution, 17-year-old Sovay sets out to find her father and brother who have been condemned for supporting the Revolution. Playing the roles of highway robber, spy, and socialite, Sovay travels from London to Paris in this romantic and suspenseful story of political intrigue and class struggle.
---

Terrorist: Gavrilo Princip, the Assassin Who Ignited World War I
by Henrik Rehr
Ages 13–up
Little is known about Gavrilo Princip, the young Serbian nationalist who assassinated Archduke Franz Ferdinand of Austria and set in motion the events leading to World War I. The 9/11 attacks in New York City caused the Henrik Rehr to wonder what drove ordinary people to become terrorists. This gripping graphic novel imagines the details that drove the young man from poverty-stricken Bosnia to contemplate murder as the only possible solution.
---

The Summer I Learned to Fly
by Dana Reinhardt
Ages 12–up
Drew (13) is a bit of a loner. She has a pet rat, a treasured book of lists from her dead father, and an encyclopedic knowledge of cheese from working at her mother's gourmet cheese shop. Drew meets a strange boy named Emmett in the alley behind the shop while searching for her escaped pet. Emmett surprises Drew with his knowledge of rats and the two become friends. Emmett confides his dream of finding a legendary spring with healing powers, and Drew betrays her mother's trust by running away with Emmett in search of the magic waters. Set in California in the 1980s, this quiet novel touches on themes of friendship, love, and sacrifice.
---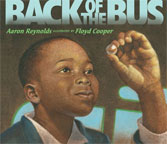 Back of the Bus
by Aaron Reynolds, Floyd Cooper
Ages 6–8
One winter day in Montgomery Alabama, a young boy and his mother are riding where they are supposed to—in the back of the bus. The boy passes the time rolling his marble in the aisle, and Rosa Parks, sitting up in the front of the bus where she isn't supposed to, rolls it back to him. See through the eyes of a child, who begins to wonder if maybe Rosa does belong up there after all, brings Rosa Park' s defiance to vivid life. Beautifully lifelike oil paintings convey the emotional tension of that famous bus ride.
---

May B.
by Caroline Starr Rose
Ages 8–12
May B. (12) lives with her family on the Kansas prairie. After a bad harvest, May B. is sent to a farm 15 miles away to help out the farmer and his new wife. Her father promises that it's only until Christmas, but May B. misses her family and the opportunity to attend school. Then the homesick farmer's wife runs off to her Ohio home, followed by the farmer, leaving May B. alone on the farm. Alone in the sod house, May B. bravely faces bad weather and dwindling supplies.
---

Someday Dancer
by Sarah Rubin
Ages 12–up
Casey Quinn is a farm girl in rural 1959 South Carolina. Casey is sure she was born to dance, but her parents can't afford ballet lessons. Encouraged by her grandmother to follow her dream, Casey makes her way to the open auditions of the American School of Ballet in New York City. Casey is eliminated in the first round, but choreographer George Balanchine sends her to Martha Graham's audition, where Casey falls in love with modern dance. Accepted into the scholarship program, Casey must balance the demands of family, friendship, and school.
---

Irena Sendler and the Children of the Warsaw Ghetto
by Susan Goldman Rubin, Bill Farnsworth
Ages 8–12
Though small in stature, Irena Sendler, a Polish social worker, managed to smuggle more than 400 Jewish children out of the Warsaw ghetto during World War II. Using clever ruses like toolboxes, ambulances, and coffins, Irena defied the Nazis and risked her own life to bring the children to safety. Worried that the children might not be reunited with their families, Irena kept a secret list of the children's identities buried in jars under a tree in war-torn Warsaw. Dramatic paintings illustrate this story of courage and compassion.
---
Rooftoppers
by Katherine Rundell, Terry Fan
Ages 8–12
After a ship sinks, a baby girl is found floating in a cello case, wrapped in the score of a symphony. Charles Maxwell, a young fellow passenger, saves the baby and decides to keep her, despite social pressure of 1890s London to give her up. When Sophie is 12, the authorities order that she be given to an orphanage, so Charles and Sophie flee to Paris, where the cello case was made. Sophie is convince that her mother is still alive, and sets off to search Paris with her new friend Matteo, a street child who lives on the rooftops.
---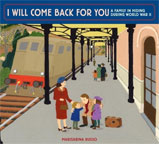 I Will Come Back for You: A Family in Hiding During World War II
by Marisabina Russo
Ages 5–9
A small girl wonders why her grandmother always wears a bracelet with curious charms on it, and eventually Nonna tells the story of her childhood in Rome during World War II. When the Nazis threatened the Jews, Nonna was separated from her father and sent to hide in the mountains with her mother and brother. Each of the seven charms represents one of the months the family was separated, and there is a story of fear, ingenuity, and compassion to go with each one. Based on her own family history, Russo tells the tale of this terrifying time in a reassuring way that is appropriate for young children.
---

The Dreamer
by Pam Muñoz Ryan, Peter Sís
Ages 9–14
This fictionalized story of Pablo Neruda's early life in the small town of Temuco, Chile presents a shy child curious about the wonders of nature. Young Neftalí Reyes (Neruda's real name) admires his uncle who owns the local newspaper, but the boy's father has no patience for Neftalí's daydreaming and love of reading and writing. The poetic text captures the spirit of an artist who savors the sound of words and the importance of dreaming in the development of a poet.
---

The Blackthorn Key
by Kevin Sands
Ages 10–14
Life is hard for orphans in the 1600s in London, and Christopher Rowe (14) is lucky to be apprenticed to Master Benedict Blackthorn, a kind apothecary. But someone is murdering apothecaries, and Master Blackthorn is attacked. Christopher flees, and with his friend Tom uses all the scientific skills he has learned to rescue his master and find the killers.
---

Anna and the Swallow Man
by Gavriel Savit
Ages 12–up
In 1939 Kraków, Anna (7) is left in the care of Herr Doktor Fuchsmann, a neighborhood pharmacist for a few hours while her father, a linguistics professor, is summoned to a meeting with the Gestapo. None of the university professors return from the meeting, and Herr Doktor Fuchsmann is too nervous to allow Anna to stay. Cast into the streets, Anna follows the strange tall man who talks to the birds. The Swallow Man teaches Anna how to survive in the hostile landscape that was her home, sometimes challenging her instincts for honesty and compassion.
---

The War within These Walls
by Aline Sax, Caryl Strzelecki
Ages 14–up
Misha, a Jewish teenager in 1940 Warsaw, is walled into a section of the city by the Nazis. Misha fights against the overcrowding and inhumane conditions of the ghetto by smuggling food until his younger sister disappears during a trek through the sewer system. When he learns that the Nazis plan to kill all the Jews by transporting them to concentration camps, he joins a rebel group led by Mordechai Anielewicz, determined to fight back no matter how hopeless their cause might be. Somber blue-and-white illustrations and spare prose tell the nightmarish story.
---

Good Masters! Sweet Ladies!

Voices from a Medieval Village
by Laura Amy Schlitz
Newbery Medal 2008


Ages 10–up
Written to be performed by a classroom of students, these 23 short monologues in prose and verse bring to life an English village in 1255.
---

The Hired Girl
by Laura Amy Schlitz
Ages 12–up
Joan Skraggs (14) works hard on her family's farm in Pennsylvania. Joan loves to read and longs for more education, but her father refuses. Joan pours her longing out for a better life in her diary. When her father burns her books, Joan runs away to Baltimore, hoping that she can get a job as a hired girl, cooking and cleaning for six dollars a week. She is hired by a wealthy Jewish family, amazed by their unity as a close loving family unit. Joan learns about keeping kosher and is exposed to art, music, and literature. She grows to love the family, and is shocked when she encounters anti-Semitism. Joan's journey to adulthood is inspiring, and modern readers will be horrified by the amount of work required to cook and clean in the early 20th century.
---

Looking for Jack Kerouac
by Barbara Shoup
Ages 14–up
In 1964, Paul Carpetti discovers Jack Kerouac's On the Road and begins to question the direction of his own future. When Paul's mother dies suddenly, his friend Duke convinces him to take a road trip to Florida in search of Kerouac, rumored to be living in St. Petersburg. On the journey the two confront changes in music, politics, race relations, and attitudes toward the Vietnam War in this sensitive coming-of-age story.
---

Revolver
by Marcus Sedgwick
Ages 12–up
It's 1910 in the Scandinavian town of Giron, 100 miles north of the Arctic Circle. Fourteen-year-old Sig has just seen his father die after a fall through the ice when a stranger appears, demanding the gold he says Sig's father stole from him 10 years earlier during the Alaskan Gold Rush. Sig's only protection is is father's Colt revolver hidden in the storeroom of the isolated cabin. The truth is slowly revealed as Sig struggles to decide if he will use the gun.
---

The Invention of Hugo Cabret
by Brian Selznick
Caldecott Medal 2008


Ages 9–12
Hugo, a 12-year-old-orphan lives in the walls of a Paris train station at the turn of the 20th century, trying to finish an invention his father left. Black and white pencil illustrations pay homage to flickering silent movies.
---

The Marvels
by Brian Selznick
Ages 8–12
This amazingly inventive book imagines the life of the family who lived in the real Dennis Severs House in London. The first part of the story is told entirely in pictures that span nearly 400 pages, beginning with Billy Marvel, a boy who survives a shipwreck in 1766 and finds work in a London theatre. The family flourishes as actors until 1900, when young Leontes Marvel is banished from the stage. The story continues in 200 pages of prose. Nearly a century later, Joseph Jervis runs away from home and takes refuge with his uncle Albert Nightingale in his strange and beautiful house, leading Joseph into a quest to learn about the history of the house and his family.
---

Between Shades of Gray
by Ruta Sepetys
Ages 12–up
Lina is a normal 15-year old girl who loves to draw and paint and dream about boys until the night in 1941 when Soviet soldiers invade her town. Separated from her father on a crowded train, Lina is sent to a work camp with her mother and younger brother. The three make a long and arduous journey north to the Siberian work camp north of the Arctic Circle, where they are forced to dig for beets as they struggle to survive. Using her art to maintain her sense of hope, Lina illustrates messages she hopes will reach her father in prison. Based on historical fact, this gripping novel illustrates the persecution suffered by the millions of Stalin's victims.
---

Out of The Easy
by Ruta Sepetys
Ages 14–up
Josie Moraine, the daughter of a brothel prostitute in the French Quarter in 1950s New Orleans, dreams of escaping from her life and attending college. Josie works in a local bookstore in exchange for a safe place to sleep and cleans the brothel to earn money for college. When Josie becomes involved in a murder investigation and a mob debt, escaping her circumstances becomes more unlikely than ever, but Josie is determined to be in charge of her own destiny.
---

Salt to the Sea
by Ruta Sepetys
Ages 12–up
World War II is ending in East Prussia, and thousands of refugees are desperately fleeing the country, many with secrets to hide. Four narrative voices describe the plight of the refugees who end up on the Wilhelm Gustloff, a ship they hope will take them safely to freedom. Florian is a Prussian boy carrying a secret parcel, Amelis is a 15-year old pregnant Polish girl with no papers, Joana is a 21-year-old Lithuanian nurse who is convinced she is guilty of murder, and Alfret is a German solder aboard the Wilhelm Gustloff, a doomed ship whose causalities will exceed those of the Titanic and Lusitania combined.
---

The Berlin Boxing Club
by Robert Sharenow
Ages 12–up
Karl Stern (14) has never thought of himself as Jewish since his family isn't religious. But in 1930s Berlin he is tormented and beaten by his classmates so his father's friend Max Schmeling, a boxing champ, agrees to train Karl as a boxer so he can defend himself and his younger sister. As the Nazi regime gains power, it becomes clear that Karl and his family aren't safe in German. A talented artist, Karl draws cartoons and comics as he dreams of finding freedom in America, falls in love with a Catholic neighbor, and meets a cross-dressing homosexual. This powerful historical novel examines racism and prejudice through the lens of both fictional children and real historical figures.
---
I'll Pass For Your Comrade:

Women Soldiers in the Civil War
by Anita Silvey
Ages 10–14
This non-fiction book tells the fascinating story of the women who risked their lives and reputations to fight in the Civil War. Vintage photographs, etchings, and memoirs illuminate the adventures and struggles of the women who cut their hair and disguised themselves as men to join the fight. Highly accessible language helps to put these unconventional women in historic context.
---
Stitches
by David Small
Ages 12–up
In this memoir, David Small tells the story of his boyhood in the 1950s. Believing that science can fix everything, his radiologist father subjected David to numerous x-rays for various childhood ailments, resulting in cancer that was untreated for years. At age 14, unaware that he had throat cancer and was expected to die, David awoke from an operation left him nearly mute. Beautifully told from a child's perspective, this pen and ink graphic novel is both dark and delightful.
---

The Boy on the Bridge
by Natalie Standiford
Ages 14–up
Laura (19) is an American studying in early 1980s Leningrad. Homesick, cold, and tired of inedible food, Laura is ready to give up until a young Russian artist rescues her from two aggressive gypsy women on a bridge. Laura is immediately attracted to Alyosha, but has been warned not to get involved with Russian men, who probably have ulterior motives for striking up a friendship with Americans. The desperation Laura sees among Alyosha and his friends gives her a new understanding of life behind the Iron Curtain.
---

The Romeo And Juliet Code
by Phoebe Stone
Ages 8–12
In the middle of WWII, eleven-year-old Felicity's parents send her from the dangers of England to the safety of her father's family in Maine. When her Uncle Gideon begins to receive mysterious letters in her father's handwriting from Portugal, Felicity and her new friend Captain Derek set out to crack the code of the letters and figure out what is being hidden from her. Themes of culture shock, adaptation, and perseverance are explored in this romantic mystery.
---

Heroes of the Valley
by Jonathan Stroud
Ages 10–up
Halli Sveinsson isn't handsome or tall or blonde like his siblings. He's short and dark and loves playing practical jokes. When one of his jokes back-fires, Halli is forced to set out on a quest where he encounters robbers and monsters and a girl who may have as quick a mind as his own. This coming-of-age-novel is a surprising look at what bravery really is.
---

The Brothers Story
by Katherine Sturtevant
Ages 14–up
Twins Kit and Christy grow up in poverty in an Essex village. Christy is "simple" and dependant upon his brother. The hardships of the Great Frost of 1683–84 are too much for the teenaged Kit to bear, and he abandons his brother and flees to London, where he finds work as an apprentice to a struggling artist. Kit struggles with issues of familial responsibility, religion, class, and gender roles in this frank coming-of-age novel.
---

Doom Machine
by Mark Teague
Ages 9–12
It's 1956 and young Jack Creedle and his disreputable Uncle Bud are trying to fix a dead car which stranded scientist Dr. Shumway and her daughter, Isadora, in the small town of Vern Hollow. When the aliens land, Bud knows they are there to steal one of his inventions, but everyone else is amazed when the aliens kidnap seven people and take them off to the planet Skreepia. This lively illustrated interstellar adventure will captivate middle school readers.
---

Highway Robbery
by Kate Thompson, Robert Dress
Ages 10–up
A young beggar recalls the night a stranger rode into town, promising the boy a gold coin if he watched his horse. The boy's loyalty is tested by people passing by who offer riches in exchange for the noble steed. Finally the king's men arrive and declare that the horse is Black Bess who belongs to the infamous highwayman Dick Turpin. The boy now has a moral dilemma since keeping his word and staying with the horse may lead to Turpin's arrest.
---

Otto: The Autobiography of a Teddy Bear
by Tomi Ungerer
Ages 8–up
Otto the teddy bear belongs to David, a Jewish boy living in German. When David and his family are taken away to the camps, he gives Otto to his best friend Oskar. Oskar's father soon leaves for the front, and Oskar loses Otto in the bombing raids. Otto is found by an American soldier, and stops the bleeding that would have killed him. Years later, Oskar finds Otto in an American antique store, and their picture in the paper leads to a reunion with David. Narrated by Otto in a calm voice, this moving book presents the reality of war, loss, and abandonment.
---

Queen of the Falls
by Chris Van Allsburg
Ages 6–9
Annie Edson Taylor, a 62-year-old widow, decided she needed a way to strike it rich after closing her Michigan charm school. In 1901 she read an article about the popular tourist attraction Niagara Falls, and decided to become a popular attraction herself. She commissioned a barrel large enough to hold herself and a layer of soft pillows, hired a publicist, notified the press, and launched herself over the falls. Sepia-tinted illustrations accompany this story of a courageous woman determined to earn fame and fortune.
---

Moon Over Manifest
by Clare Vanderpool
Newbery Medal 2011


Ages 9–12
In 1936, while her father is away on a railroad job, 12-year-old Abeline Tucker spends the summer in her father's hometown of Manifest, Kansas. Based on her father's stories, Abeline expects something magical, and is disappointed to find only a worn out old town. But Abeline is determined to find out what her father was like at her age, and explores the past through stories and newspaper columns. When she finds a hidden cigar box full of old letters, Abeline and her new friends are quickly involved in a spy hunt, eager to unveil the secrets of the past.
---

Navigating Early
by Clare Vanderpool
Ages 9–12
Before Jack's mother dies at the end of World War II she tells him to keep looking for the things that connect us all, the ways our paths cross, the places our hearts collide. Jack (13) is sent from his Kansas home to a boarding school in Maine where he meets an eccentric student named Early Auden. Early is obsessed with the mathematical concept of pi, believing that Pi is a boy endangered on an epic journey. Jack agrees to accompany Early on his quest to rescue Pi, and the two set off into the wilderness. This intricately plotted story is spellbinding.
---

Climbing the Stairs
by Padma Venkatraman
Ages 12–up
Set in World War II India, 15-year-old Vidya's father joins the freedom fighters who follow Gandhi's nonviolent protest of British rule. During a rally he is severely beaten and left too brain-damaged to support his family, who must move in with relatives and work as servants. This novel movingly presents a unique time and place and shows how love and hope can blossom in even the most dismal of circumstances.
---

The Forbidden Orchid
by Sharon Biggs Waller
Ages 12–up
Elodie Buchanan is the eldest of 10 sisters living in a small English town in 1861. The girls barely know their father, a plant hunter who travels the world searching for rare plants for his customers. When he fails to locate a rare orchid in China, he is threatened with debtor's prison. Elodie persuades her father to try once more to find the orchid, and makes the journey back to China with him. Elodie has never ventured out of her small village, and is at first consumed with fear of the unknown. A growing sense of excitement about the world cause her to doubt her ability to return and resume her sheltered life as a respectable and responsible young lady.
---
Like Water on Stone
by Dana Walrath
Ages 14–up
Shahen Donabedian dreams of going to New York while his twin sister Sosi is perfectly happy with their life in 1914 Anatolia, in the Armenian Highlands, living peacefully as Christians among the Muslims. Then the Ottoman pashas begin to eliminate all Armenians, and their parents are killed in the attack. Shahen and Sosi flee into the mountains with their little sister Mariam, watched over by an eagle. Four sections span a five year period, telling the story of the atrocities of the Armenian genocide in multiple perspective first person verse narratives.
---

Black Dove, White Raven
by Elizabeth Wein
Ages 12–up
Delia and Rhoda are stunt pilots, touring the American countryside in the 1920s, each with a child. When Delia is killed in an airshow, Rhoda decides it is time to fulfill Delia's dream of raising her son Teo, whose father was Ethiopian, somewhere he won't be discriminated against because of his skin color. Along with her daughter Emilia, Rhoda moves the family to an Ethiopian coffee plantation just as Haile Selassie takes power and Mussolini prepares an invasion.
---

Code Name Verity
by Elizabeth Wein
Ages 14–up
When a British spy plane crashes in Nazi-occupied France in 1943, Queenie, a Scottish spy code-named Verity, agrees to describe her mission to avoid torture. Her often unreliable narration reveals her past, including how she became friends with Maddie, the pilot of the plane. This riveting novel balances the horrors of war against the power of courage.
---

Rose Under Fire
by Elizabeth Wein
Ages 14–up
Rose Justice is an American teenager who volunteers as a civilian pilot in WWII, ferrying Allied planes from England to Paris. While flying a Spitfire back to England from France for the Royal Air Force, Rose is captured by the Nazis and sent to Ravensbrück, the notorious women's concentration camp in Northern Germany. At Ravensbrück, female Polish political prisoners, called "rabbits" by the Nazis, are used for medical experimentation. Told in journal form after her release, Rose fulfills her promise to tell the world what happened at Ravensbrück. (companion volume to Code Name Verity)
---

Small Acts of Amazing Courage
by Gloria Whelan
Ages 9–12
Rosy, the 15-year-old daughter of a major in the British Indian army, has a strong sense of independence and justice. When her father returns from WWI, he is horrified to find that she has saved an Indian infant from being sold and has secretly been to one of Gandhi's speeches promoting non-violent protests. Rosy's father ships her off to England to stay with her proper aunts and keep her out of trouble, but it doesn't take Rosy long to shake up the somber household with her progressive ideas about Indian independence.
---

All My Noble Dreams and Then What Happens
by Gloria Whelan
Ages 9–12
It's 1921, and Rosy has returned to her beloved India after an extended stay in the United States. Her maiden aunts Ethyl and Louise have joined the busy household, caught up in frantic preparations for a visit by the Prince of Wales. Rosy has promised to deliver a letter written by Mahatma Gandhi, an appeal to Britain to give India its freedom. Rosy's proper British officer father can't understand her sympathies for the native Indians, but Rosy can't stop fighting for justice. (sequel to Small Acts of Amazing Courage)
---
Countdown
by Deborah Wiles
Ages 9–12
Franny (11) and her family live in Maryland in 1962. Her father is a pilot stationed at Andrews Air Force Base, and it's the middle of the Cuban Missile Crisis. To Franny, it seems like everyone is afraid most of the time. Air-raid sirens and duck-and-cover drills are routine, the evening news contains scary thoughts about nuclear war, and pamphlets about how to build a bomb shelter are readily available. Franny's first person narration is supplemented with period photographs, newspaper clippings, song lyrics, etc. Franny's realization that managing to love your family through a crisis can often be harder than facing the crisis itself will resonate with those living through hard times today.
---

P.S. Be Eleven
by Rita Williams-Garcia
Ages 8–12
After returning from a visit to their estranged mother and a summer spent at a camp run by the Black Panthers, Delphine (11) and her sisters are back in Brooklyn in 1968 with Big Ma, their grandmother. Delphine is self-conscious about being the tallest girl in her sixth grade class, her uncle Darnell returns from Vietnam a damaged man, her pa has a new girlfriend, and Big Ma is stricter than ever. Delphine is supposed to watch over her younger sisters, but they are hard to control and she isn't too sure what to do. (sequel to One Crazy Summer)
---

The Incorrigible Children of Ashton Place: Book I: The Mysterious Howling
by Maryrose Wood
Ages 8–12
Penelope Lumley, a 15-year-old educated at the Swanburne Academy for Poor Bright Females, has just accepted her first post as governess. The three children in her charge were found running wild in the woods, and are now living in a barn on the estate of Lord Frederic Ashton. More animal than human, Alexander keeps his younger siblings in line with gentle nips while Beowulf chases squirrels and Cassiopeia barks. First in a new series, this cleverly funny book will have readers clamoring for the next.
---

Crow
by Barbara Wright
Ages 8–12
It's the summer of 1898 in Wilmington, North Carolina, and Moses (11) is teaching Boo Nanny, his slave-born grandmother, to read. For the first time, Boo Nanny shares stories of her youth as a slave. Moses's Harvard-educated father is a respected reporter for the newspaper, and Moses believes the troubles his grandmother experienced are a thing of the past. Then an editorial sparks the Wilmington Race Riots. The first-person narration in this powerful book presents an intimate look at race relations and injustice.
---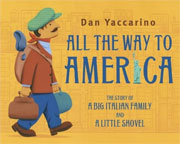 All the Way to America: The Story of a Big Italian Family and a Little Shovel
by Dan Yaccarino
Ages 5–9
This four-generational story of an Italian-American family begins with an immigrant who came through Ellis Island with a small shovel and his parents' advice to work hard, enjoy life, and always remember your family. The shovel has many uses as it is passed from father to son, at a pushcart stand, measuring ingredients for sauce in a restaurant, and to pour rock salt on the icy sidewalk outside a barber shop. Warm illustrations illustrate this family story, sure to encourage kids to ask parents and grandparents for their own family story.
---

The Star Maker
by Laurence Yep
Ages 8–12
It's the early 1950s in San Francisco's Chinatown, and everyone is excited about the upcoming festival to celebrate the lunar new year. Eight-year-old Artie is the youngest of the cousins, and when his older cousin Petey puts him down, Artie boasts that he will have so many firecrackers on Chinese New Year that he can give one to every member of the family. Uncle Chester sympathizes and promises to help Artie keep his promise, but as the holiday draws near that seems more and more unlikely. Uncle Chester loses money at the race track and can't find work, while Artie has spent all his money. Based on Yep's own childhood memories, his affectionate book celebrates family and cultural traditions.
---

The Dragon's Child:

A Story of Angel Island
by Laurence Yep with Kathleen S. Yep
Ages 8–12
Based on transcripts of Laurence Yep's father's 1922 immigration interview, this short novel relates the harrowing experiences of ten-year-old Gim Lew, who is interned on Angel Island in San Francisco Bay, where he must submit to lengthy detailed interviews about his home, village and neighbors, in order to prove he is who he claims to be.
---