---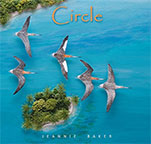 Circle
by Jeannie Baker
Ages 5–8
Each year the bar-tailed godwit completes the longest unbroken migration of any bird, from the Arctic to Australia and New Zealand and then back to the breeding grounds in the Arctic. Beginning in Australia, a boy in a wheelchair watches the godwit flock through binoculars, longing for the freedom of flight. In China the flock discovers buildings where they used to rest, and must search for a new feeding spot. They then travel to Alaska, where disaster strikes their breeding grounds, before returning to Australia, welcomed by the boy who is now on crutches. The incredible strength of the birds is beautifully set against the fragility of the habitat they need to survive.
---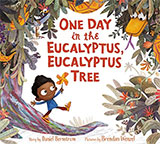 One Day in the Eucalyptus, Eucalyptus Tree
by Daniel Bernstrom, Brendan Wenzel
Ages 4–8
A large yellow snake hiding in a eucalyptus tree, swallows a small boy. The boy cleverly convinces the snake he is still hungry and the greedy snake consumes a series of creatures until his belly rebells and they all come pouring out again. The rhyming text and bold illustrations add to the fun of this funny tale.
---

Hippopotamister
by John Patrick Green
Ages 5–8
Hippopotamus and his friend Red Panda live in a zoo, which is run-down. Red Panda decides to leave and get a job among humans, and Hippopotamus follows along. Red Panda renames him Hippopotamister, which he considers a more appropriate name out in the world. Their first job is working in a restaurant kitchen, and Hippopotamister worries that his food won't taste good, but his Hippopasta Primavera is a big hit, while Red Panda's antipasto of licorice, mushrooms, and car keys isn't well received. The two are hired and fired from a series of jobs and Hippopotamister picks up a new set of skills each time until he's earned enough to return to the zoo and improve it.
---
Death Is Stupid
by Anastasia Higginbotham
Ages 4–8
A young boy mourning the death of his grandmother is not comforted by the well-meaning but confusing condolences. He's not sure he wants his Gramma watching over him at all times and wonders how she can want to be in a better place than with her family. The boy's anger, confusion, and fear about death is beautifully portrayed as is the ultimate comfort of sharing his memories with his father as they work together in Gramma's garden. This sensitive book is the perfect start to a conversation about death.
---

Ada's Violin: The Story of the Recycled Orchestra of Paraguay
by Susan Hood, Sally Wern Comport
Ages 4–8
Ada Ríos (11) lives in Cateura, Paraguay, a slum whose inhabitants make their living collecting and selling trash from the nearby landfill. Favio Chávez, an engineer, begins teaching music to the at-risk children of Cateura, and Ada learns to play the violin. There aren't enough instruments to go around, and the few available are too precious to take home to practice. Chávez asks the gancheros (recyclers) for help collecting raw materials, and begins constructing musical instruments from discarded trash: cellos from oil drums, flutes from water pipes, guitars from packing crates. The Recycled Orchestra becomes famous and plays in cities around the world. This true story is inspiring. "Buried in the trash was music. And buried in themselves was something to be proud of."
---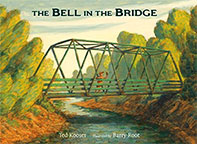 The Bell in the Bridge
by Ted Kooser, Barry Root
Ages 6–9
Charlie is staying for his hard-working grandparents for two weeks during summer vacation. Often left to his own devices, Charlie plays outdoors. He comes across a big metal bridge over a stream and discovers that when he strikes it with a stone the sound resonates through his shoes and echoes throughout the valley. Sometimes he hears an answering sound, and wonders if it is an echo of his own bridge, or perhaps someone on another bridge creating an answering sound.
---

The Bunny Burrow Buyer's Book: A Tale of Rabbit Real Estate
by Steve Light
Ages 4–8
Gregory and Petunia Bunny are about to have babies and need a larger home. Readers can peek into each potential burrow through circular die-cuts, and full-page flaps unfold to reveal the inside. Neighbors often make a possible home less than ideal, and the rabbit family increases with each turn of the page. Lots of bunny puns add to the fun for adult readers sharing this beautiful book with a youngster, especially one about to move to a new home.
---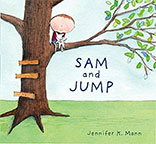 Sam and Jump
by Jennifer K. Mann
Ages 3–7
Sam and his stuffed bunny Jump do everything together because they are best friends. One day at the beach Sam meets a boy named Thomas and they have so much fun playing together that he forgets all about Jump, who is left behind when he returns home. The following day he returns to the beach to find that his new friend Thomas has rescued his old friend Jump. This reassuring story is the perfect bedtime book for a child with a best stuffed friend of his/her own.
---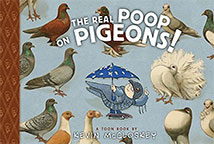 The Real Poop on Pigeons
by Kevin McCloskey
Ages 4–8
A park visitor declares his distaste for the pigeons he calls "rats with wings." A group of children dressed in pigeon costumes appears and shares a series of facts explaining why pigeons are wonderful birds. They once carried mail, they mate for life, they can fly faster than cars. This funny graphic novel is a TOON Level 1.
---

Grumpy Pants
by Claire Messer
Ages 4–8
Penguin is having a very grumpy day. Arriving home through a rain storm, he takes off his "grumpy coat" and "grumpy boots" all the way down to his "grumpy underpants." Soothed by a hot bath he puts on his pajamas and settles down to read a book. This endearing story of self soothing is empowering for young readers struggling with their own grumpy days.
---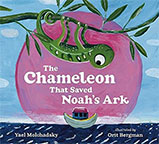 The Chameleon that Saved Noah's Ark
by Yael Molchadsky, Orit Bergman
Ages 5–8
Noah and his family work hard to keep all the animals on the ark happy and well-fed, but the two chameleons are very picky eaters and refuse every offering. Noah begins carrying one of the chameleons around on his shoulder, hoping to find something it will eat. While inspecting some food stores that have become infested with worms the chameleon flicks out her sticky tongue and happily eats the worms, solving both of Noah's problems at once.
---
This Is Not a Picture Book!
by Sergio Ruzzier
Ages 3–5
Duck is disgusted to realize that the fat book he picks up has no pictures, only words. His friend Cricket asks if he can read it, and Duck is uncertain since pictures are easy and words are hard. But the two stick with it and struggle through the words. Unfamiliar words are represented by amorphous shapes while recognizable images pop up for familiar words like bee. Their imaginations are caught up by the words and the two are carriage away by the adventure. Emerging readers will identify with this empathetic story.
---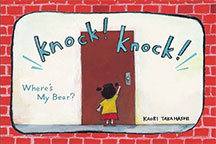 Knock! Knock!
by Kaori Takahashi
Ages 3–8
A small girl returns home to find that her bear is missing. As she knocks on the doors of her apartment building in search of the missing bear, the reader lifts panels vertically and horizontally to gradually reveal the rooms and their unusual occupants. When the girl finds her bear on the roof, a long staircase unfolds to bring her back home. The intricate architecture of this unfolding book is amazing.
---
---

This is the Part Where You Laugh
by Peter Brown Hoffmeister
Ages 14–up
Travis lives in a trailer park in Eugene, Oregon, with his grandmother, who is dying of cancer. During summer vacation Travis practices basketball with his friend Creature, canoes around the lake in search of the beautiful girl who just moved into the neighborhood, and searches homeless encampments for his drug-addicted mother. Despite Travis's best efforts to stay out of trouble, everything spirals out of control when Creature tangles with a vicious gang. This honest coming-of-age novel is funny and powerful.
---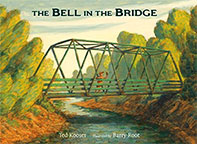 The Bell in the Bridge
by Ted Kooser, Barry Root
Ages 6–9
Charlie is staying for his hard-working grandparents for two weeks during summer vacation. Often left to his own devices, Charlie plays outdoors. He comes across a big metal bridge over a stream and discovers that when he strikes it with a stone the sound resonates through his shoes and echoes throughout the valley. Sometimes he hears an answering sound, and wonders if it is an echo of his own bridge, or perhaps someone on another bridge creating an answering sound.
---
Some Kind of Happiness
by Claire Legrand
Ages 8–12
Finley Hart (11) is sent to spend the summer with the grandparents she has never met while her parents finalize their divorce. Finley's escape from the sadness that often overwhelms her has been the magical forest kingdom of Everwood, which she created and recorded in her notebook. While exploring the woods behind her grandparents' country estate, Finley discovers that Everwood is real, and more mysterious than she ever imagined with a family of pirates and a wizard living in a house constructed of bones. As she allows her cousins into her imaginary world, the mysteries increase and the sadness grows. Her quest to understand the secrets of her family helps her understand why her father avoids his relatives and that a family sticks together through good times and bad.
---

Draw the Line
by Laurent Linn
Ages 12–up
Adrian Piper is a gay teen in a small homophobic Texas high school, reluctant to display his true identity. He escapes into the comic world he draws featuring Graphite, a Renaissance-art-inspired gay superhero who has adventures with disguised versions of Adrian's friends. When bullies attack another gay student, Adrian can no longer hide under the radar and steps up to confront the bullies, exposing his own secrets. Dramatic pencil illustrations of Graphite's adventures add to this emotionally rich book.
---
Devil and the Bluebird
by Jennifer Mason-Black
Ages 13–up
After her mother's death of cancer, Blue Riley (17) is in search of her sister Cass, who vanished after making a deal with the Devil. The Devil gives Blue six months to find her runaway sister and takes her voice as part of the bargain. Armed only with her mother's guitar and a pair of enchanted boots, Blue sets off across the country to find her sister. The Devil keeps changing the rules, forcing Blue to think quickly. As Blue encounters the ghosts of the road and her own past, she comes to understand both herself and her complicated family.
---

Summer Days and Summer Nights: Twelve Love Stories
edited by Stephanie Perkins
Ages 13–up
Twelve best-selling young adult authors each contribute a love story to this collection. The stories range from heartfelt to spooky, but all capture the vulnerability and excitement of first love.
---

Silence Is Goldfish
by Annabel Pitcher
Ages 12–up
Tess Turner (15) reads a blog post by her father about the baby he couldn't love her since she was the result of a sperm donation and not his biological daughter. Deciding she will no longer try to live up to her father's expectations, she stops speaking, which has unexpected results. Tess is bullied and loses her best friend, but feels that she has finally taken control of her own life and becomes more confident. She becomes obsessed with a substitute teacher she imagines might be her real father, befriends the teacher's handsome son, and has imaginary conversations with her goldfish-shaped flashlight. Her silence forces her to examine her family more closely, gaining new insights into the family dynamics.
---

Every Exquisite Thing
by Matthew Quick
Ages 15–up
Nanette O'Hare, a high school junior, has been a dutiful daughter, dedicated student, and star athlete her entire school career. Everything changes for Nanette when her favorite teacher gives her a copy of an out-of-print cult classic novel called The Bubblegum Reaper. Multiple readings of the novel awake her inner rebel, and Nanette quits the soccer team and deserts her friends in order to spend time with Booker, the elderly author, and Alex, another Bubblegum Reaper fan. Alex is a talented poet but also a troubled young man. Their romance forces Nanette to realize that rebellion comes with a price she may not be willing to pay.
---

If I Was Your Girl
by Meredith Russo
Ages 13–up
Amanda Hardy was born Andrew, but always knew she was meant to be a girl. After enduring bullies and her father's advice to be tough, she moves to live with her mother during the long and difficult physical transformation. She returns to live with her father, eager to begin her new life and finish high school in a new school, hoping to go unnoticed until she becomes used to her new self. But boys are attracted to her new beauty, and Amanda forms a tentative relationship with easygoing Grant, though she is afraid he will no longer like her if he learns the secret of her past. But can they really have a relationship if she refuses to share her truth? This sensitive exploration of the emotional journey of a trans teen is full of hope.
---

Everland
by Wendy Spinale
Ages 12–up
London has been destroyed in a blitz of bombs and a disease that killed all the adults. Gwen Darling (15) and her younger siblings Joanna and Mikey spend their nights scavenging for food and their days hiding from the Germans, let by Captain Hanz Otto Oswald Kretschmer, known as Hook, who is searching for a cure for the deadly virus by capturing children who are immune. One day they capture Joanna. Gwen is desperate to rescue her sister and meets a strange boy named Pete, who offers the help of his band of Lost Boys, and the sharpshooter Bella. This fast-paced re-imagining of the Peter Pan story is enthralling.
---

You Can Fly: The Tuskegee Airmen
by Carole Boston Weatherford, Jeffery Boston Weatherford
Ages 9–12
Free verse poems tell the story of the first African-American pilots, trained at the Tuskegee Institute before fighting on the front lines in WWII. Throughout the war these pilots suffered through racial prejudice, separated from the white soldiers by ropes as they traveled across the Atlantic on their way to battle, learning not to stray too far from the military base, and risking their lives to protect a country that did not respect their rights as individuals.
---

Highly Illogical Behavior
by John Corey Whaley
Ages 14–up
Solomon Reed (16) suffers from acute anxiety and agoraphobia and hasn't left his house since a panic attack in seventh grade resulted in an extremely embarrassing experience. Lisa, an ambitious former classmate in search of a topic for scholarship essay about mental illness, inserts herself into Solomon's house, determined to fix him somehow. Lisa's charming boyfriend Clark comes along, and the two boys discover they have a common interest in comic books, Star Trek, and card games. The three grow closer until Solomon falls for Clark, and heartbreak follows.
---