---

I Love You Like a Pig
by Mac Barnett, Greg Pizzoli
Ages 4–8
The silly similes in this funny read-aloud invite children to think imaginatively — what does it mean to love someone like a pig? Choruses of "Oink! Oink! Oink!" encourage young readers to interact with the text and the goofy cartoon illustrations.
---

The Mermaid
by Jan Brett
Ages 4–8
This lavishly illustrated book resets the classic Goldilocks and the Three Bears folk tale under the sea. Kiniro, a young mermaid, discovers a pretty house made of sea shells. She finds a just-right breakfast, a right-sized chair, and a comfy bead that rocks in the current. When the Octopus family returns home they are not pleases to find that someone has been eating their food, and Baby is shocked to find someone sleeping in her bed. Luckily Kiniro has just the right gift to appease the Octopus family.
---

Grandma's Tiny House
by Janay Brown-Wood, Priscilla Burris
Ages 2–5
Grandma's family and friends fill her tiny house on Brown street. Aunts, uncles, nieces, nephews, grandkids, and neighbors arrive with treats for a family feast are counted in groups of 1 through 15. The little house is so full that no one can sit down to eat, but luckily one clever grandchild knows exactly how to solve the problem.
---

Animals Hide and Sneak
by Bastien Contraire
Ages 1–3
This stylish board book presents a series of groups of animals where "One if these things is almost like the others." Young children will have fun spotting the odd one out, and considering why the out-of-place thing is there.
---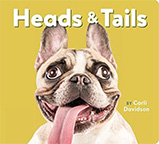 Heads & Tails
by Carli Davidson
Ages 1–3
Animal expert and photographer Caril Davidson uses close-up photos of dogs and puppies to introduce the names of various body parts. Each close-up is paired with a picture of the entire animal that lets young readers see the body part in context.
---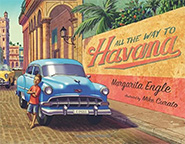 All the Way to Havana
by Margarita Engle, Mike Curato
Ages 4–8
Our young narrator and his family are traveling from their rural home to Havana in a bright blue Chevy Delray they call Cara Cara because her aging engine makes sounds like a chicken: cara, cara, cara, cluck, cluck, cluck. Held together by wire, table, and scraps of dented metal, Cara Cara transports the family along the coast to the busy streets of Havana for a family celebration.
---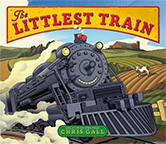 The Littlest Train
by Chris Gall
Ages 4–8
After being accidentally knocked off its tabletop track, the tiny train travels through a mouse hole tunnel into the outside world. There it meets life-sized trains of all kinds, including a cog railway engine, a steam locomotive, a commuter train and a rotary snowplow train. The littlest train's new friends work together to safely deliver the toy train back to his home.
---

Bear Make Den
by Jane Godwin, Michael Wagner, Andrew Joyner
Ages 4–8
We meet Bear as he is reading How Make Den. Bear is a do-it-now kind of guy and sets right in to carve a cave in the rock. At first happy with the den, Bear decides he needs to make it comfortable and gets to work making furniture, a stove for baking cakes, and a bear-themed chess set. Now only one thing is missing — other bears to enjoy the new den!
---

This Beautiful Day
by Richard Jackson, Suzy Lee
Ages 4–8
Stuck inside on a dreary rainy day, a boy hears music coming from a radio. He begins to dance, and splashes of blue appear in the black and white illustrations. Two girls join him in the dance, and they venture out in the rain with their umbrellas. They stomp in the puddles, and gradually more color appears as the rain stops.
---

Stay: A Girl, a Dog, a Bucket List
by Kate Klise, M. Sarah Klise
Ages 3–5
Eli the dog has been with Astrid since she was born, her first and best friend. As Astrid grows older she notices that Eli is slowing down, and worries that his time with her is coming to an end. Before he slows down too much, Astrid makes a bucket list for Eli, including all the experiences she thinks he might enjoy. They eat together at a restaurant, slide down the slide at the playground, visit the library, and see Lassie at the movie theater. In the end it is clear that Eli doesn't really care what they do, the important thing is that they spend their time together.
---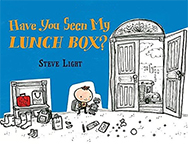 Have You Seen My Lunch Box?
by Steve Light
Ages 2–5
It's almost time for school, and a young boy needs help from the reader to find everything he needs for the day. He is missing his pink socks, a purple robot, a green book, and other objects. Text on the left hand page describes the missing object and brightly colored illustrations highlight the missing object on the right hand page. This interactive seek-and-find book helps young readers see the fun in the often-dreaded morning routine of getting ready for school.
---

Take a Picture of Me, James Van Der Zee!
by Andrea J. Loney, Keith Mallett
Ages 7–11
James Van Der Zee was only a young boy when he saved enough money to buy his first camera, taking portraits of his family and his classmates. He was soon the official school photographer and the unofficial town photographer as well. At the age of 18 he moved from Massachusetts to New York City with the dream of becoming a professional photographer. Informed that no one would want their portrait taken by a black name, he opened his own portrait studio in Harlem, taking portraits of legendary figures of the Harlem Renaissance — Marcus Garvey, Florence Mills, Bill (Bojangles) Robinson, Mamie Smith — as well as ordinary people from the neighborhood.
---

Someone Like Me
by Patricia MacLachlan, Chris Sheban
Ages 4–8
In this picture book memoir, author Patricia MacLachlan remembers being a little girl who loved listening to stories, climbed trees, read constantly, and tried to teach her dog to talk. That childhood lead to a career writing books about dogs who can speak and chickens who scratch stories in the dirt. MacLachlan makes it clear that ot's not adventures or exotic travel that creates a writer, merely the willingness to watch and listen and imagine.
---

Chef Roy Choi and the Street Food Remix
by Jacqueline Briggs Martin, June Jo Lee, Man One
Ages 5–12
Chef Roy Choi calls himself a "street cook," dedicated to bringing tasty home-style food to the "hungry" parts of Los Angeles. The food served in his Kogi food trucks is a mixture of the Korean flavors he grew up with and the many cultures that make up the streets of Los Angeles. This accessible biography written in hip hop style verse is a celebration of street food, street art, and the diverse people of Los Angeles.
---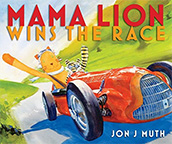 Mama Lion Wins the Race
by Jon J Muth
Ages 3–5
Mama Lion and her sidekick Tigey are all set for the big race in their snazzy red sports car. They are competing against the Flying Pandinis and the Knitted Monkey team. Mama Lion loves racing, but winning isn't as important to her as enjoying the journey.
---

A Different Pond
by Bao Phi, Thi Bui
Ages 6–8
Poet Bao Phi, the son of Vietnamese immigrants, draws on his childhood memories in this reflective book about pre-dawn fishing trips with his father on the lakes of Minneapolis. The fishing trips aren't for fun, they need the fish to put food on the table. "Everything in America costs a lot of money," explains his father. They meet fishermen from other cultures — a Hmong man who speaks broken English and a black man who takes pride in his colorful lures. The fishing is a morning adventure for the boy, but the start of a long work day for his father. This touching book celebrates a father who struggles to adapt to a strange new culture while cherishing time with his son.
---
Nothing Rhymes with Orange
by Adam Rex
Ages 5–8
When a group of fruit get together to sing a rhyming song about how wonderful each one is, Orange feels left out because nothing rhymes with Orange. When Apple notices how Orange is feeling, all the fruit begin working together to make Orange feel part of the group despite his non-rhyming uniqueness.
---

Margaret and the Moon
by Dean Robbins, Lucy Knisley
Ages 4–8
This accessible picture book biography tells the story of mathematician Margaret Hamilton, who loved playing with numbers ever since she was a small girl. She loved using math to solve real-world problems and went to MIT, where she taught herself computer code. Margaret hand wrote the code that would allow a spaceship's computer to solve unexpected problems. Her code was used in the Apollo 8-11 missions. The cartoon-like illustrations add humor while celebrating her accomplishments.
---

Dogosaurus Rex
by Anna Staniszewski, Kevin Hawkes
Ages 4–8
Ben is eager to adopt a dog at the shelter, but none are exactly right until he sees Sadie. Ben's mother is dubious about the enormous animal who roars instead of barking, but Ben is sure that she is the best dog in the world. When his mother suggests that Sadie is just too much trouble and should be returned to the shelter, Ben decides to prove that Sadie is the perfect dog. Young readers will enjoy understanding immediately that Sadie is a Tyrannosaurus rex though all of the characters in the book see her as a dog.
---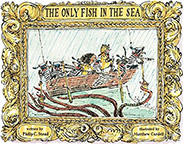 The Only Fish in the Sea
by Philip C. Stead, Matthew Cordell
Ages 3–6
When Sadie learns that Amy Scott has thrown her birthday goldfish into the sea, plastic bag and all, she sets out with her friend Sherman and a gang of monkeys to rescue the fish she names Ellsworth. The monkeys (introduced in Special Delivery) provide a hilarious counterpart to Sadie's calm obliviousness to the dangers of setting out to sea.
---

Jack and the Beanstalk and the French Fries
by Mark Teague
Ages 3–5
After Jack trades the family cow for a handful of magic beans his mother is thrilled with all the dishes she can make from the fruit of the magic beanstalk: bean salad, pickled beans, bean soup, refried beans, bean sprouts, bean dip… Jack is less than thrilled and is about to cut down the magic beanstalk when he meets the grumpy giant who is also sick and tired of beans. Together they plant a garden full of more enjoyable vegetables: tomatoes, corn, carrots, and even potatoes to make French Fries.
---

What Does Baby Want?
by Tupera Tupera
Ages Birth–2
The increasingly fussy baby in this circle-shaped book is offered a series of round objects (his ball, his tambourine, his teddy bear) but isn't pacified until his mother offers the one thing her hungry baby wants — her breast. This celebration of the bond between nursing baby and mother is the perfect baby shower gift.
---
Hello Humpback!
by Roy Henry Vickers and Robert Budd
Ages 2–6
Part of the "First Words" series, this board book introduces the animals and landscape of the Pacific Northwest. The rhyming text is accompanied by beautiful illustrations by First Nations artist Roy Henry Vickers, with the animals drawn in the bold abstract style of the region's indigenous artists.
---
---

Landscape with Invisible Hand
by M.T. Anderson
Ages 14–up
When the aliens called the vuvv arrive, Adam Costello (15) and the rest of the Earth's inhabitants are startled. The vuvv offer advanced technology and cures for all diseases, which everyone is eager to purchase. Unfortunately the vuvv products cause the collapse of Earth's economy since most, including Adam's parents, are soon out of work and desperate for money to buy food, clean water, and the vuvv medicine to cure Adam's chronic gastrointestinal illness. The vuvv love "classic" Earth culture like doo-wap music from the 1950s, still-life paintings of fruit, and true love. So Adam and his girlfriend Chloe broadcast an exaggerated pay-per-view nostalgic version of their romance, which the vuvv are eager to purchase. But with every episode Chloe and Adam begin to hate each other a little more, and Adam's illness gets worse.
---

Tumble & Blue
by Cassie Beasley
Ages 8–12
When the red moon rises over the Okefenokee swamp, the legendary golden alligator Munch is said to grant good luck to anyone brave enough to face him. In 1817 two from the Montgomery family arrive at the same time causing a disaster: half of their descendants will have wonderful fates (like a powerful connection to animals) and half will have terrible fates (like early deaths). Blue Montgomery draws an unlucky fate: no matter what he will always lose. Tumble Wilson (11) has just moved to Murky Branch. Determined to be a hero, she decides to make it her quest to alter Blue's fate.
---

Felix Yz
by Lisa Bunker
Ages 10–up
Felix Yz (13) has a secret crush on Hector, but that's not his main worry. At the age of three Felix was accidentally fused with Zyx, a hyper-intelligent being from the fourth dimension. Felix and Zyx have co-existed well for ten years, but Felix can't grow into adulthood while they are fused together. A risky procedure to separate them is scheduled in 29 days. If it works Felix will have to say goodbye to his constant companion, if it doesn't they may both die. Luckily Felix is supported by his loving parents, his piano prodigy older sister, and his gender-fluid grandparent who alternates between Vera and Vern. Narrated by Felix in a secret blog, this captivating book is a celebration of the wonders of being "different."
---

Forest World
by Margarita Engle
Ages 10–up
Edver (11) has lived with his cryptozoologist mother in Miami for most of his life. Sent to visit his father, who patrols the forest for poachers, in the Cuban village of La Selva, Edver is surprised to discover that he has a sister his mother left behind when she fled to America ten years earlier. The two sibling have conflicted feelings about the mother that separated them and left Luza behind, but find a connection in their love for the natural world that both their parents protect. The two come up with a plan to lure their mother back to Cuba, accidentally creating a dangerous situation they must work together to resolve.
---

Writing Radar: Using Your Journal to Snoop Out and Craft Great Stories
by Jack Gantos
Ages 9–12
Newbery Award Medalist Jack Gantos uses stories he wrote as a youth in his journal as proof that keeping a journal is the best tool for aspiring authors. Short chapters give practical advice about developing technique and activating one's Writing Radar — the heightened awareness an author must have. "You need a certain writerly attitude as you walk down the street — a kind of stealthy, snoopy, slinky, shifty, sinister, and silent confidence." This encouraging and humorous guide is the perfect gift for all aspiring writers.
---

Truthers
by Geoffrey Girard
Ages 12–up
Katie Wallace (17) was only a year old when terrorists attacked the Twin Towers and has never given much thought to 9/11. She is shocked when her father has a breakdown and is sent to a mental institution, claiming that Katie is not his daughter, instead living proof of a government cover-up of the 9/11 attacks. Katie doesn't believe his wild claims, but hopes that investigating them will help bring him back to mental health. Her research brings her into contact with the Truthers, a secretive group of 9/11 conspiracy theorists who believe 9/11 was an inside job.
---
Refugee
by Alan Gratz
Ages 9–12
Intertwined narratives tell the story of three children seeking asylum with their families. Josef (12) lives in Nazi Germany. When his father returns from a concentration camp nearly destroyed, Josef must help his family board a ship for Cuba in 1938 to escape Germany. Isabel (11) lives in Cuba with her family. In 1994 they board a raft, hoping to find safety in America. Mamoud (12) leaves Syria with his family after a bomb destroys their apartment building, hoping to find a new life in Greece. Full of tragedy and resilience, these stories illuminate the desperate need of refugees around the world to find a place of security and safety.
---

Dinosaur Empire!
by Abby Howard
Ages 8–12
Ronnie flunks her fifth grade test on dinosaurs and is given the chance to take it again. Ms. Lernin, her retired paleontologist neighbor, helps out by taking Ronnie back to the Mesozoic era in her TARDIS-like recycling bin time machine. They visit three important time periods: the Triassic, the Jurassic, and the Cretaceous. As she meets real-life dinosaurs and reptiles, Ronnie learns the differences between herbivores, carnivores, and omnivores and between dinosaurs, insects, and reptiles. Full color cartoon illustrations and informative dialog between Ronnie and Ms. Lernin present the facts with humor in this scientifically accurate graphic novel.
---

Take a Picture of Me, James Van Der Zee!
by Andrea J. Loney, Keith Mallett
Ages 7–11
James Van Der Zee was only a young boy when he saved enough money to buy his first camera, taking portraits of his family and his classmates. He was soon the official school photographer and the unofficial town photographer as well. At the age of 18 he moved from Massachusetts to New York City with the dream of becoming a professional photographer. told that no one would want their portrait taken by a black name, he opened his own portrait studion in Harlem, taking portraits of legendary figures of the Harlem Renaissance — Marcus Garvey, Florence Mills, Bill (Bojangles) Robinson, Mamie Smith — as well as ordinary people from the neighborhood.
---

Warcross
by Marie Lu
Ages 12–up
Emika Chen (18), a former hacker, struggles to support herself in New York City by tracking down criminals using the virtual world of Warcross to make illegal profits. Warcross began ten years ago, an immersive game accessed by a brain-computer interface. Popular with gaming fans, Warcross is now infiltrated by those who bet on the game illegally. Faced with eviction, Emika hacks into the opening game of the international Warcross Championships, unintentionally exposing her identity to millions of viewers, including Hideo Tanaka, the game's 21-year-old billionaire inventor. Hideo invites her to Henka Games headquarters in Tokyo, recruiting her to track down a hacker called Zero. Emika is entered into the Championships as a wild card player, and she soon uncovers a sinister plot.
---

Chef Roy Choi and the Street Food Remix
by Jacqueline Briggs Martin, June Jo Lee, Man One
Ages 5–12
Chef Roy Choi calls himself a "street cook," dedicated to bringing tasty home-style food to the "hungry" parts of Los Angeles. The food served in his Kogi food trucks is a mixture of the Korean flavors he grew up with and the many cultures that make up the streets of Los Angeles. This accessible biography written in hip hop style verse is a celebration of street food, street art, and the diverse people of Los Angeles.
---

Pablo and Birdy
by Alison McGhee, Ana Juan
Ages 8–12
Pablo drifted to the seaside town of Isla as a baby in an inflated swimming pool with a lavender colored parrot by his side. As his tenth birthday draws near, Pablo becomes obsessed with his unknown past. His neighbors tell the legend of the Seafaring Parrot, a magical bird that remembers every sound ever uttered. No one has ever seen the Seafaring Parrot, but everyone wonders if Birdy, Pablo's silent companion who cannot fly, might be it. One day strange winds, like those that blew Pablo ashore, begin to blow, and Birdy begins to mutter. Pablo is torn: Will Birdy begin to speak and tell him of his past? And if she does, will she fly away forever as the legend of Seafaring Parrot foretells?
---

Blowback '07: When the Only Way Forward Is Back
by Brian Meehl
Ages 12–up
Arky Jongler-Jinx is into sports. He is on the high school cross country team and his best friends Matt and Danny are on the football team. Arky's twin sister Iris is a musician, preferring to play the antique English horn her mother secretly left her before vanishing. One day while Iris is playing the horn, she accidentally sends Matt back to 1907. Iris and Arky try to find a way to bring Matt back home, wondering if perhaps they can find their mother as well. Meanwhile, Matt has to adjust to his new century, playing on the high school team coached by Pop Warner. This time-traveling science fiction novel is the first in a planned series.
---

The Art of Starving
by Sam J. Miller
Ages 13–up
Matt, a gay high school junior, hasn't eaten in days. Matt's older sister Maya suddenly left town after meeting with Tariq, a senior soccer star. Matt is certain that Tariq did something to drive Maya away, and works to earn Tariq's trust — ignoring his own attraction to him — in order to get revenge. Matt denies that he has an eating disorder, sure that hunger sharpens his senses, giving him the power to see beneath the surface. This disturbing novel doesn't pull any punches about the dangers of anorexia.
---

The Disappearances
by Emily Bain Murphy
Ages 12–up
It's 1942, and Aila Quinn (16) and her younger brother Miles are sent to their mother's hometown of Sterling to live with the Cliftons when their father is drafted. Malcolm and Matilda Clifton are old friends of their mother Juliet, who died recently. The Cliftons welcome Aila and Miles, but the rest of the town is not happy to see them. The Quinns discover that eveyr seven years, beginning with the year Juliet was born, the town residents lose something, like the ability to smell the flowers or see reflections. No one knows why the Disappearances happen, but they always suspected Juliet was somehow responsible. As the next seventh year approaches, Aila follows a sequence of literary clues her mother left behind, hoping to solve the mystery of the Disappearances.
---

Spirit Hunters
by Ellen Oh
Ages 8–12
Harper Raine (12) has just moved with her family to Washington DC. She doesn't trust her new house from the first moment, and feels especially uncomfortable in her four-year-old-brother Michael's bedroom, which always feels cold. At first Michael new imaginary friend named Billy seems harmless, but Michael begins acting strangely and Harper wonders if the rumors about the house being haunted might be true. Buried memories of the time Harper was caught in a school fire that left her with numerous broken bones begin to emerge.
---

The Wendy Project
by Melissa Jane Osborne, Veronica Fish
Ages 12–up
Wendy Davies (16) crashes her car in to a New England lake one summer night with her two younger brothers in the back seat. When she wakes up in the hospital her parents tell her that John is fine but her youngest brother Michael is dead. Wendy shocks her family by insisting that Michael was carried away by a flying boy dressed in green. Wendy's parents send her to a therapist and transfer her to a new school, where the students and adults resemble characters from Peter Pan's Neverland. Given a sketchbook by her therapist, Wendy begins to draw what she calls The Wendy Project: her presumed reality in stark black and white and the Neverland characters in brilliant color.
---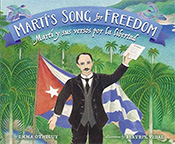 Martí's Song for Freedom / Martí y sus versos por la libertad
by Emma Otheguy
Ages 8–10
This bilingual biography in verse tells the story of Cuban activist José Martí, who worked to free Cuba from Spanish rule and the Cuban people from slavery. Martí wrote for newspapers and passed out pamphlets until he was jailed and exiled to New York, where he continued his work to liberate the Cuban people. Excerpts from Martí's Versos sencillos accompany this moving account of his crusade for justice and freedom.
---

Queer, There, and Everywhere: 23 People Who Changed the World
by Sarah Prager, Zoe More O'Ferrall
Ages 13–up
This insightful, respectful, and sometimes irreverent book explores gender identity and sexuality by focusing on 23 individuals from different times and nations defined by a broad definition of queerness: "anyone outside society's gender and sexuality norms." Among those featured are Joan of Arc, Abraham Lincoln, Eleanor Roosevelt, baseball player Glenn Burke, blues singer Ma Rainey, queer rights activist Sylvia Rivera, actor George Takai, and gender-ambiguous Christina, the Queen of Sweden.
---

GIRL: Love, Sex, Romance, and Being You
by Karen Rayne, Ramsey Beyer, Nyk Rayne
Ages 13–up
This empowering guide to sexuality is designed for all "older teenagers who identify as female," candidly examining gender, healthy relationships, consent, and various types of sex. Handwritten entries from six teens and young women proved intimate and honest perspectives.
---

Thornhill
by Pam Smy
Ages 10–14
In 2017 Ella Clark and her father move to a house that overlooks the Thornhill Institute for Children, a dilapidated former orphanage. Ella's father is rarely home, so when the lonely teenager sees a girl wandering around the Thornhill grounds, she crawls under the fence to introduce herself. In 1932 Mary Baines (13) is a lonely orphan at Thornhill when it is in the process of closing. Her few friends are adopted or moved to another orphanage, leaving Mary in the company of an unstable bully. As the staff is reduced, the bulling increases, and Mary plots her revenge. Intertwined narrations feature entries from Mary's diary, newspaper clippings, and eerie black and white illustrations documenting Ella's interactions with Mary's ghost.
---

Words on Bathroom Walls
by Julia Walton
Ages 12–up
Adam (16) has been tormented by voices and hallucinations since he was 12: the beautiful girl who understands him, the mob boss who bullies him, and the naked guy who is always polite. He is unable to distinguish between his visions and reality, and alienates all his friends. Finally diagnosed with schizophrenia, Adam is selected for a trial of ToZaPrex, an experimental drug to control the symptoms of schizophrenia. Adam still hears voices and has hallucinations, but for the first time in years he can tell the difference between what's real and what isn't. He changes to a new school and meets Maya, who thinks he is a nice normal guy. Then his miracle drug begins to fail, and Adam fears he will lose everything again.
---