---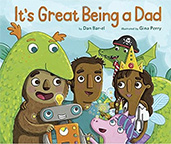 It's Great Being a Dad
by Dan Bar-El, Gina Perry
Ages 4–8
A group of costumed children are having a great game of make believe until Bigfoot gets tangled in a tree, Unicorn's horn becomes stuck in a table, and Robot's arm begins to rust in the rain. Luckily Dad comes to the rescue and even saves Fairy Queen Ballerina Doctor's wand from Sneaky Flying Alligator Pirate.
---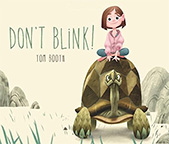 Don't Blink!
by Tom Booth
Ages 3–6
A small girl challenges the reader to a contest: the last to blink is the winner. A series of animals joins the girl in the contest, each reminded "Don't blink!" as they join in. This silly low-tech contest is great fun.
---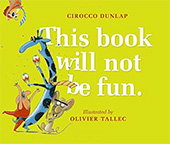 This Book Will Not Be Fun
by Cirocco Dunlap, Olivier Tallec
Ages 3–7
A pompous little mouse assures the reader that this book will be completely boring with not a bit of fun. Interruptions like flying whales cause the mouse to temporarily lose control, but he manages to retain his serious demeanor until the infectious rhythm of the band at the giant zero-gravity dance party is simply impossible to resist.
---

Buddy and Earl Go to School
by Maureen Fergus, Carey Sookocheff
Ages 4–7
Buddy the dog and Earl the hedgehog are eager to start school, knowing a good education is the key to getting a fabulous job like a dentist or a hot dog vendor. When their teacher is called away from the classroom, Professor Earl takes charge. Buddy excels at lessons like Sniffing Things, Tail Chasing, and Scratching Itches. The obedient dog and rule-challenging hedgehog demonstrate that school can be fun for all kinds of students.
---

The Gold Leaf
by Kirsten Hall, Matthew Forsythe
Ages 4–8
When a gold leaf appears in the forest, each of the animals wants it more than anything else in the world. Their struggles to possess the rare leaf destroy it, and the animals are heartbroken, wondering if they will ever see such a wonderful thing again.
---

I Promise
by David McPhail
Ages 4–8
When his mother promises to sing to him later, Baby Bear asks, "What's a promise?" Mother Bear promises to feed him, play with him, and to do everything she can to keep him safe. Baby Bear asks if she can promise he will always be happy, and she explains that his happiness depends mostly on him, but she promises to do everything she can to help. And she can promise to always love him, no matter what.
---
Over and Under the Pond
by Kate Messner, Christopher Silas Neal
Ages 5–8
A boy and his mother observe above and below their rowboat as they row across a mountain pond: moose, turtles, and osprey above; minnows, beavers, and tadpoles below.
---

Blue Sky White Stars
by Sarvinder Naberhaus, Kadir Nelson
Ages 4–8
Simple verses paired with rich illustrations featuring diverse people celebrate iconic American imagery, including the Statue of Liberty, a Civil Rights march, a spacecraft at Cape Canaveral.
---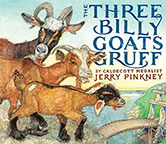 The Three Billy Goats Gruff
by Jerry Pinkney
Ages 4–8
Three hungry goats come to a bridge with lush green grass on the other side. The troll under the bridge is also hungry, eager for a meal of goat. The smaller billy goats convince the troll to wait for a bigger meal until the largest goat tosses him into the water, where a creature even larger than the troll awaits. Pinkney's ending addition changes the classic tale of revenge into one tinged with empathy.
---
The Teacher's Pet
by Anica Mrose Rissi, Zachariah OHora
Ages 3–5
When the classroom tadpoles are big enough, Mr. Stricter tells they can keep just one and must release the rest. The class chooses Bruno, the smallest of the tadpoles. Bruno doesn't stay tiny very long, growing into a giant creature that eats the desks and sneezes slime all over everything. Mr. Stricter doesn't seem to notice the damage his beloved pet is doing, and the students must solve the problem themselves.
---

The Music of Life: Bartolomeo Cristofori & the Invention of the Piano
by Elizabeth Rusch, Marjorie Priceman
Ages 4–8
This inspiring biography tells the story of Bartolomeo Cristofori, a 17th-century Italian musician who longs to create an instrument that can be played both softly (piano in Italian) and loudly (forte in Italian). Prince Ferdinando de Medici, who wants his court to become the musical center of Italy, brings Cristofori to Florence. While wandering around the city Cristofori is fascinated by the small hammers of the goldsmiths whose tiny sounds contrast with the huge thumps of the enormous hammers of the blacksmiths. He wonders if using hammers might be the key to his dream instrument, and creates the pianoforte, capable of both soft and loud sounds.
---

Life
by Cynthia Rylant, Brendan Wenzel
Ages 4–up
A single plant sprouts from the ground, and then a multitude of animals appears. Asked, "What do you love about life?" the animals have different answers depending on their unique perspectives: the sky, the rain. When difficulties arise, perseverance helps.
---

My Daddy Rules the World: Poems about Dads
by Hope Anita Smith
Ages 4–8
Told from a child's perspective, the 16 poems in this book celebrate small moments between fathers and their children: haircuts, guitar lessons, wrestling matches, bedtime stories, cuddling in bed.
---

Charlie & Mouse
by Laurel Snyder, Emily Hughes
Ages 6–9
Four linked stories tell the story of two brothers whose mother refuses to get out of bed one morning. The inventive brothers talk to lumps, organize a party at the playground, open up a rock-selling business, and create the tradition of the Bedtime Banana to postpone bedtime as long as possible. The engaging illustrations help to make this funny book even more accessible for beginning readers.
---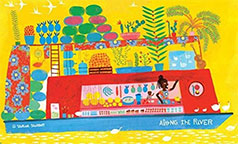 Along the River
by Vanina Starkoff
Ages 4–up
Boats of all sizes and shapes travel the river in Brazil. Mostly dark-skinned people dressed in vivid colors travel by ship or boat or canoe or live on houseboats with hand-lettered signs. This vibrant book celebrates the Brazilian culture, community, music, and food.
---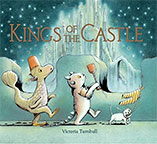 Kings of the Castle
by Victoria Turnbull
Ages 4–7
George and his dog Boris are playing at the beach when a monster with scales and a head like a dinosaur emerges from the ocean. George introduces himself, but the monster only responds with "arfs" that Boris responds to. Frustrated that the monster can't talk, George is about to leave when Boris leads him back to the monster drawing in the sand: a picture of itself and George, with the word Nepo above the monster's head. The two start building an enormous sand castle together, and a friendship.
---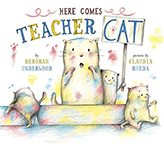 Here Comes Teacher Cat
by Deborah Underwood, Claudia Rueda
Ages 3–5
Cat is not happy with his job as substitute teacher. The roomful of kittens is a bit scary, and the job is cutting into his valuable nap time. Cat soon realizes how much fun school can be, and his six kitten students participate in lessons about music, building, and painting in a style worthy of Cat himself. The only problem is if they will be able to clean up the classroom before Ms. Melba returns.
---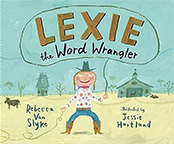 Lexie the Word Wrangler
by Rebecca Van Slyke, Jessie Hartland
Ages 5–8
Lexie is a cowgirl who wrangles words instead of cows. She watches over baby letters as they grow into words, ties shorter words together into longer words, herds words into sentences, and hitches the sentences together to create stories. But something is wrong at the ranch. Every S-T-A-R in the sky turns into R-A-T-S and the DESERT Lexie is riding through turns into a sticky DESSERT. Lexie must catch the word rustler before any more damage is done.
---

Say Hello, Sophie
by Rosemary Wells
Ages 1–3
Sophie is two and can't quite seem to say Hello and Good-bye no matter how much she is encouraged. Luckily Granny comes to the rescue with the solution to Sophie's problem.
---

Mickey Mantle: The Commerce Comet
by Jonah Winter, C.F. Payne
Ages 4–8
This accessible picture-book biography tells the story of a poor country boy from Commerce, Oklahoma, who became one of the greatest and most loved baseball stars of all time. Mickey Mantle could run from home plate to first base in 2.9 seconds, hit the longest home run in major league history, and was the greatest switch hitter ever to play the game despite painful injuries.
---

Things to Do with Dad
by Sam Zuppardi
Ages 4–8
A small boy helps his father work through the long TO DO list of chores posted on the refrigerator. Using his imagination, making the beds becomes sailing a pirate ship and watering the garden turns into an exploration of the jungle. This nearly wordless book celebrates the power of imagination to transform daily chores into fun shared activities.
---
---

Midnight at the Electric
by Jodi Lynn Anderson
Ages 14–up
Adri Ortiz, an orphan, has been accepted in a prestigious Mars colony project in 2065. Before her relocation she is reunited with a long-lost elderly relative in Kansas. Adri discovers a postcard dating back to 1919 when Lenore in England is dealing with the death of her beloved brother in WWI and about to set sail for a new life in America. In 1934 Oklahoma, Catherine discovers the same postcard as her family is struggling through the economic uncertainties of the Dust Bowl. Each young woman's independent spirit binds the three stories into an unforgettable whole.
---

Funny Girl: Funniest. Stories. Ever.
edited by Betsy Bird
Ages 8–12
Twenty-five female authors contribute to this very funny collection of stories, comics, poems, and magazine-style quizzes. Contributers include Cece Bell, Sophie Blackall, Libba Bray, Shannon Hale, Lisa Graff, and Raina Telgemeier.
---

Ashes to Asheville
by Sarah Dooley
Ages 10–up
Felia (12) lives with her two mothers. When Mama Lacy becomes ill with cancer, they move from Asheville, North Carolina, to a small town in West Virginia to be closer to Mama Lacy's family. After Mama Lacy dies, Mama Lacy's mother sues for custody of her granddaughter and Mama Shannon isn't able to retain custody of Felia. Then Felia's 16-year-old sister Zany shows up late one night with the crazy plan of driving back to Asheville to scatter Mama Lacy's ashes on the lawn of the home they all lived in happily as a family. The road trip is full of disasters, but the two girls discover that the bonds that connect them as sisters cannot be severed by a court decision.
---

Strange Fruit: Billie Holiday and the Power of a Protest Song
by Gary Golio, Charlotte Riley-Webb
Ages 8–12
This powerful book focuses on two pivotal moments from Billie Holiday's career as a singer: leaving Artie Shaw's band after the latest in a long string of incidents of discrimination and the first performance of the song "Strange Fruit," a protest song about the lynching of Blacks. At that first performance some audience members got up and left; the remainder were stunned into silence before breaking out into thunderous applause. The vivid illustrations highlight the theme of the power of art to fight against intolerance and hate.
---

I Believe in a Thing Called Love
by Maurene Goo
Ages 14–up
Desi Lee (17) excels at just about everything. She is student body president, a varsity soccer star, and is sure she will be accepted to Stanford to study pre-med. The only thing Desi has failed is getting a boyfriend. She is a disaster at romance and can't manage to flirt without embarrassing herself. When Lucas Drakos arrives at her school, Desi turns for help to her father's obsession with serialized Korean TV shows and makes note of the romantic formulas that work in the TV world. Her "K Drama Steps to True Love" are hilarious.
---

Defy the Stars
by Claudia Gray
Ages 15–up
In this future world resources are scarce and humans have settled on multiple planets. Genesis, a colony world, is fighting a war of independence with Earth. Noemi Vidal (17) is a Genesis fighter pilot on a training run when her squadron is attacked by an Earth army of mechs, humanoid robots. Noemi is separated from her squadron and takes refuge on an abandoned research vessel occupied by Abel, the first mech ever created. After years of lonely abandonment, Abel has begun to evolve. He wants only to protect his creator, and to be free. Noemi views all mechs as abominations and works to destroy him, until she begins to wonder if he has transcended his programming and become something new. As they spend more time together, both Abel and Noemi begin to question their own beliefs about what is true and right.
---

Real Friends
by Shannon Hale, LeUyen Pham
Ages 8–12
In this touching graphic memoir, Shannon Hale tells the story of her childhood from entering school through fifth grade as she struggles to make and keep a friend. Shannon is a shy girl who doesn't make friends easily and hopes her mother is right that she needs only one true friend. She believes Adrienne is that friend is until the day that Adrienne starts hanging out with Jen and The Group that follows her around hoping to become Jen's best friend.
---

The Fashion Committee
by Susan Juby, Soleil Ignacio
Ages 12–up
Charlene "Charlie" Dean is a fashion-obsessed girl who immerses herself in the world of fashion to escape the reality of her life with a drug-addicted father and his series of loser girlfriends. John Thomas-Smith forges metal sculptures in his garage and couldn't care less about clothes. The two are rivals in a garment design competition with the prize of a scholarship to a prestigious fine arts high school both are desperate to attend. Alternating chapters reveal the similiarities between the two very different teens who share both an artistic drive and a need to change their lives. Black and white drawings by fashion and beauty illustrator Soleil Ignacio add to the appeal of this funny and touching book.
---

Pointe, Claw
by Amber J. Keyser
Ages 13–up
Jessie Vale (17) studies at a prestigious program at the Ballet des Artes in Portland, Oregon, hoping to earn a spot at the professional company. Vadim Ivanov, the principal male dancer, selects Jessie to dance in his new animalistic avant-garde ballet. At first put off by the strange choreography, Jessie is attracted to the older dancer and his touch. Jessie's childhood friend Dawn McCormick is suffering blackouts, waking up in strange places with bruises, unable to speak, and feeling a strange attraction to a captive bear. As Dawn battles with her own body and mind, Jessie struggles through the grueling world of ballet, and both girls grapple with the ways girls are judged, used, and discarded.
---

Hell and High Water
by Tanya Landman
Ages 12–up
Caleb, the dark-skinned son of a white puppeteer, has always helped his father with their Punch and Judy shows until his father is arrested for a theft he didn't commit and sentenced to be transported to the American colonies. Caleb is sent to live with an aunt he didn't know he had. She welcomes him, but the other villagers are suspicious of Caleb's dark skin. A body washes up on shore with an unrecognizable face but wearing Caleb's father's ring. Then his uncle returns from sea acting very strangely. Caleb is determined to find the truth despite racism and danger.
---

Bang
by Barry Lyga
Ages 8–12
When he was four, Sebastian Cody accidentally shot and killed his baby sister with their father's gun. Ten years later, Sebastian still can't shake the guilt of being the boy who killed, and is considering suicide. Then he meets Anessa, a new neighbor whose headscarf and brown skin make her an outcast as well. Their friendship causes him to reconsider his own self-worth, though the weight of the past may be too much for him to escape.
---

This Impossible Light
by Lily Myers
Ages 12–up
Ivy (15) is finding life difficult. Her father has moved out, her mother is depressed, her brother has left for college, and her best friend Anna has become distant. Worst of all her body keeps growing and changing and she just keeps getting taller and curvier. Even her beloved math class doesn't offer the usual comfort of balance and control. Then a skipped meal restores Ivy's sense of control over her life. If she just stops eating, Ivy hopes that her body will cease to grow and she can concentrate on math and take back control over her life.
---

Rickety Stitch and the Gelatinous Goo Book 1: The Road to Epoli
by James Parks, Ben Costa
Ages 12–up
Rickety Stitch is a skeleton minstrel, the only skeleton in the dungeon who seems to have retained his soul. Rickety's sole clue to his former identity is a song he hears in his dreams, describing the Road to Epoli and the land of Eem. His only friend is the gelatinous Goo, who only Rickety can understand. Together they set out in search of Rickety's past. This funny graphic adventure is the first in a trilogy.
---

Beck
by Mal Peet, Meg Rosoff
Ages 16–up
Beck is the result of a brief encounter in 1907 between a Liverpool prostitute and an African soldier. Orphaned at the age of 10, Beck is sent to a Catholic orphanage and shipped off to Canada. There he is subjected to sexual abuse in the Christian Brotherhood facility until the age of 15, when he is sent to work at a farm. Beck escapes and runs away, heading west in search of his place in the world. This final book by Mal Peet, completed after his death by Meg Rosoff, celebrates the strength of the human spirit fighting against pain, suffering, and loneliness.
---

Life
by Cynthia Rylant, Brendan Wenzel
Ages 4–up
A single plant sprouts from the ground, and then a multitude of animals appears. Asked, "What do you love about life?" the animals have different answers depending on their unique perspectives: the sky, the rain. When difficulties arise, perseverance helps.
---

Joplin, Wishing
by Diane Stanley
Ages 8–12
Fifth grader Joplin Danforth travel from New York City to her recently deceased grandfather's cabin in rural Maine to take care of his possessions. Joplin finds a broken platter and glues it back together, revealing a beautiful painting of a girl standing beside a stream. As she admires the painting, Joplin wishes she will find a friend at school and meet the girl painted on the platter. The next day Joplin befriends a boy named Barrett and notices a girl lurking in the shadows who looks a lot like the painting. The girl says her name is Sofie, and that she is has been trapped in the platter for centuries, cursed to grant the wishes of the owner. Joplin and Barrett join forces with Sofie to break the curse and return her to her Dutch village 400 years in the past.
---

Speed of Life
by Carol Weston
Ages 11–14
Eight months after her mother died suddenly of an aneurysm, Sofia (14) is still grieving. Her friends have been very supportive. Now they think it's time for Sofia to move on, but she can't. She writes Dear Kate, the advice columnist for Fifteen Magazine who visited her school, and is surprised to receive a quick response. The two begin an email correspondence and Sofie shares her secrets and worries before discovering that Kate is the mystery woman her father has been dating. Sofia and her father move in with Kate and her teenage daughter Alexa and Sofia has to decide if she will leave her private school for public school. Each of the 12 chapters represent a month in Sofia's year-long journey from middle to high school, through grief and her first relationship.
---

Clayton Byrd Goes Underground
by Rita Williams-Garcia, Frank Morrison
Ages 8–12
Clayton loves playing his blues harp (harmonica) with his grandfather Cool Papa Byrd and his band of Bluesmen in Washington Square Park in New York City. Clayton longs to play his own twelve bar solo as soon as he has a blues song of his own. When his grandfather dies, Clay'ton's mother tells him he can no longer play the blues, but Clayton can't stand the thought of living without the music that connected him to his favorite relative. Claytons grief causes problems at school and church, so he takes his grandfather's favorite hat and runs away, hoping to find the Bluesmen.
---