Mixed Me!
by Tate Digs, Shane W. Evans
Ages 4–8
Mike's parents tell him he is a blend of dark and light mixed together just right. His mother has curly red hair and his father has deep brown skin, and Mike is a combination of the two. He is loved, happy, and confident, but still has to answer a lot of questions about why he doesn't look just like one parent or the other.
---

See No Color
by Shannon Gibney
Ages 12–up
Alex Kirtridge (16) is the transracial adopted daughter of white parents who have two biological children. Alex and her family try hard not to see the color difference, but Alex has never fit in with either the white or black kids at school. Baseball has always united the family. Alex is a talented player and her father is a coach. But she has no one to confide in about her secret feelings of isolation. Then she finds letters from her birth father and wonders if she dares try to contact him.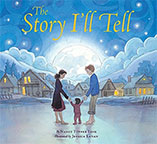 The Story I'll Tell
by Nancy Tupper Ling, Jessica Lanan
Ages 5–9
The mother in this engaging book imagines the ways she might explain how her adored adopted child joined their family. The child might have arrived from a far away land in a hot air balloon. Or delivered on horseback by a winged angel. The beautifully illustrated fantasies highlight the excitement of a family welcoming an adopted child.
---

Silence Is Goldfish
by Annabel Pitcher
Ages 12–up
Tess Turner (15) reads a blog post by her father about the baby he couldn't love her since she was the result of a sperm donation and not his biological daughter. Deciding she will no longer try to live up to her father's expectations, she stops speaking, which has unexpected results. Tess is bullied and loses her best friend, but feels that she has finally taken control of her own life and becomes more confident. She becomes obsessed with a substitute teacher she imagines might be her real father, befriends the teacher's handsome son, and has imaginary conversations with her goldfish-shaped flashlight. Her silence forces her to examine her family more closely, gaining new insights into the family dynamics.
---

Stella Brings the Family
by Miriam B. Schiffer, Holly Clifton-Brown
Ages 5–8
Stella's class is having a Mother's Day party, and Stella isn't sure what to do. She is the only one in her class without a mom, and Howie even has two! Stella has two fathers, but no one to invite to the Mother's Day party. Stella's classmates are concerned. Who packs her lunch? Who tucks her into bed at night? Who takes care of her when she is hurt? Stella begins listing all the family members who take care of her, and her friends suggest bringing them all to the party.